Get Prepared
RESOURCES TO HELP YOU BE PREPARED FOR AN EARTHQUAKE
Are You Prepared?
Earthquakes can happen in California at any time. Individuals and families living or visiting the Golden State should be appropriately prepared to react and respond quickly when an earthquake occurs, including using earthquake warnings as part of their preparedness efforts. Our Fact Sheets contain important information and recommendations for residents, and each Toolkit contains resources you can use to help spread the word.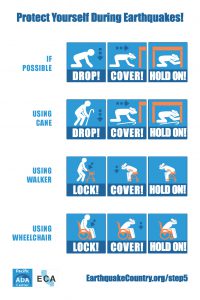 Earthquake Protective
Action Postcard
(English)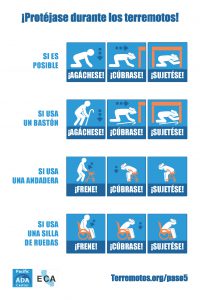 Earthquake Protective
Action Postcard
(Spanish)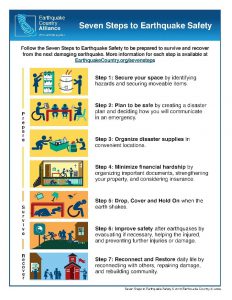 Seven Steps to Earthquake Safety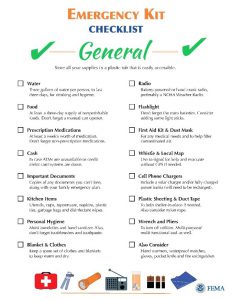 FEMA All-Hazards Emergency Kit Checklist
Campaign Images
To download images, right click and save image.
Facebook Images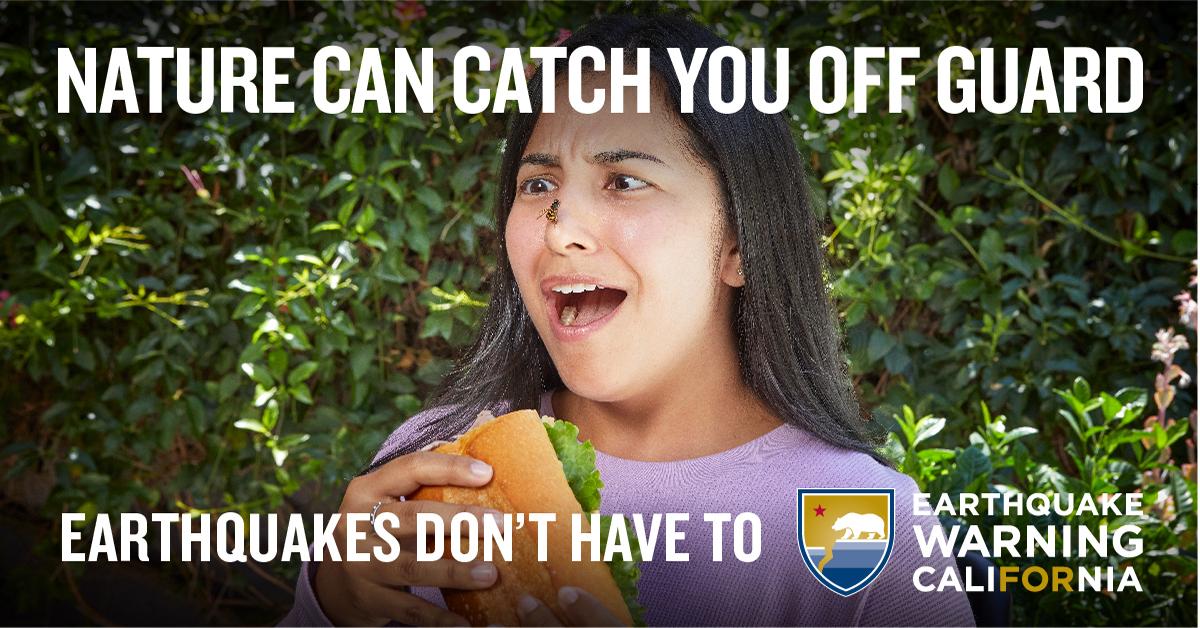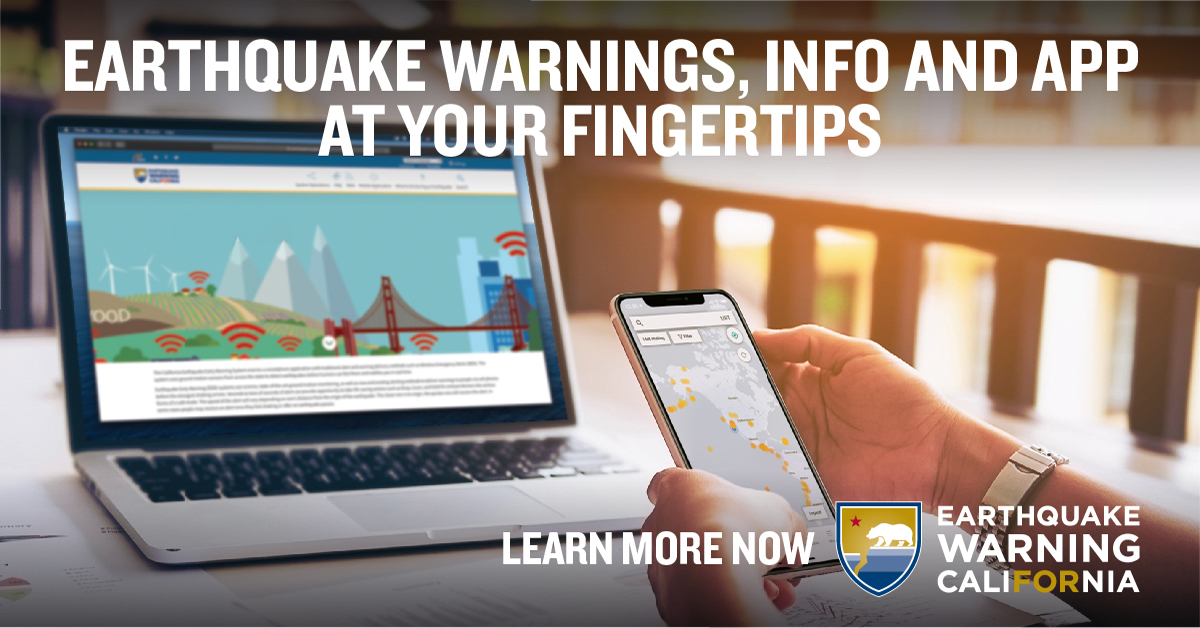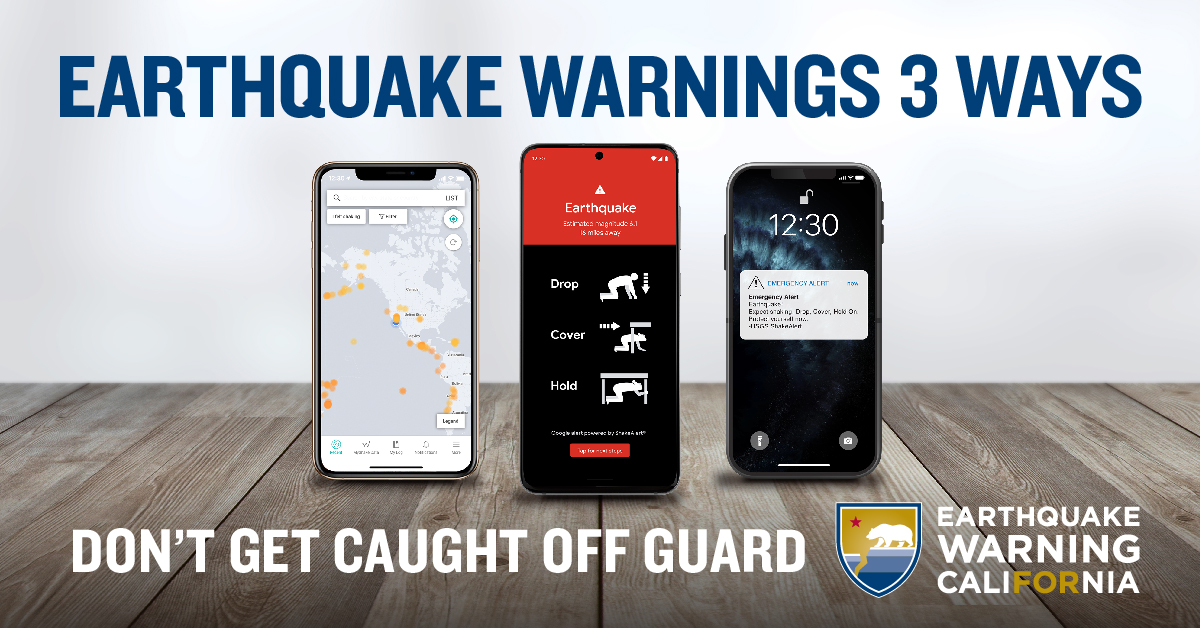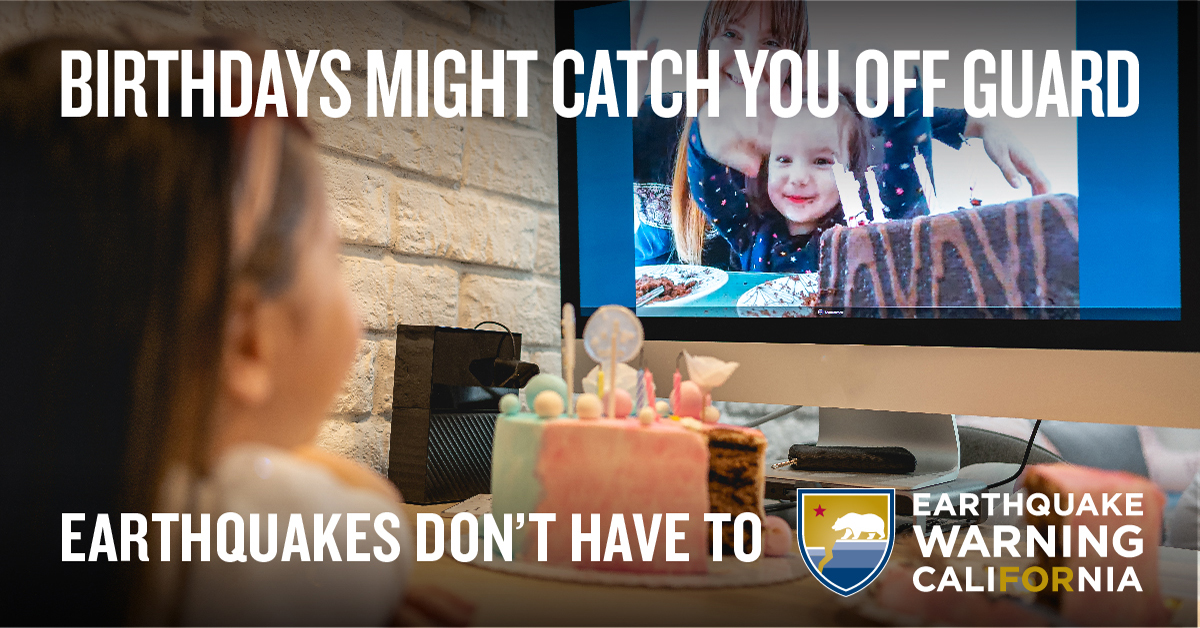 Twitter Images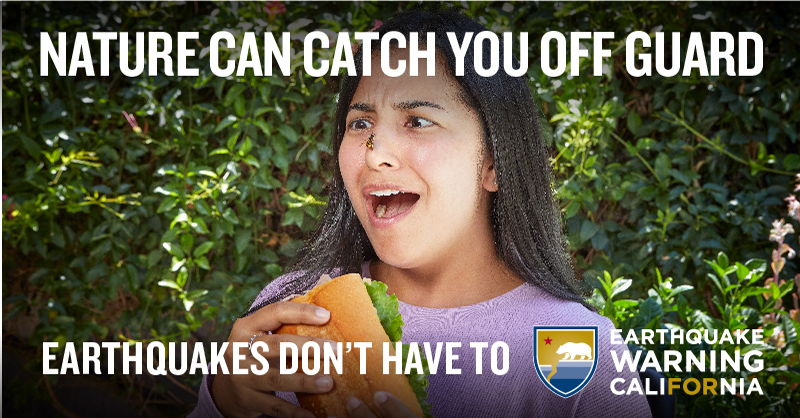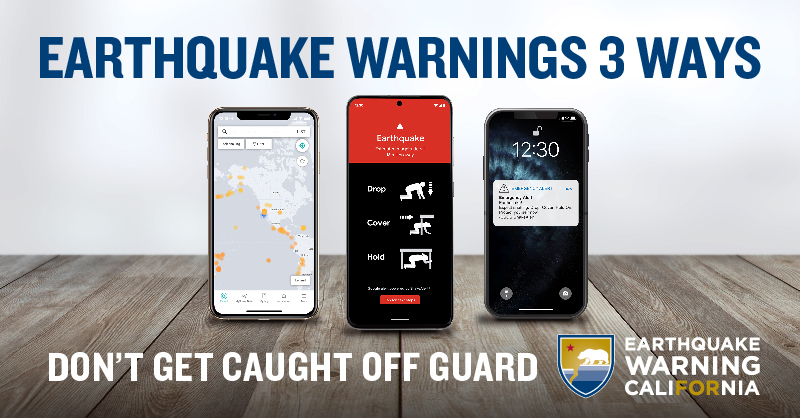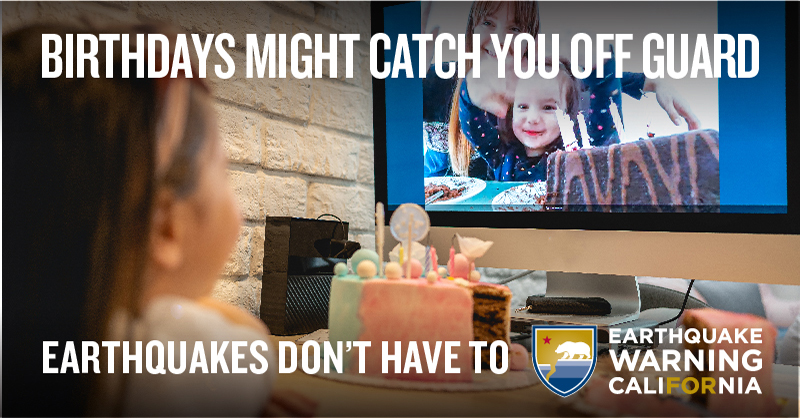 Newsletter/eBlast Images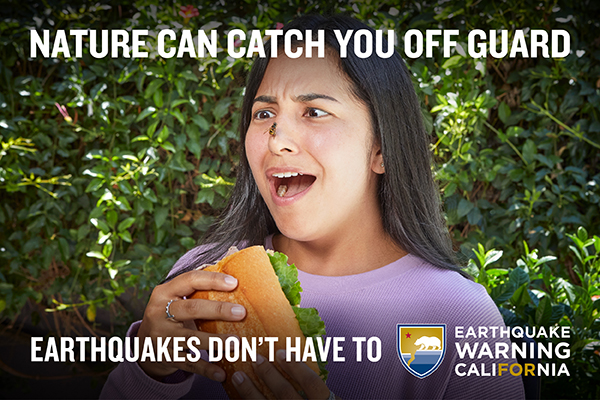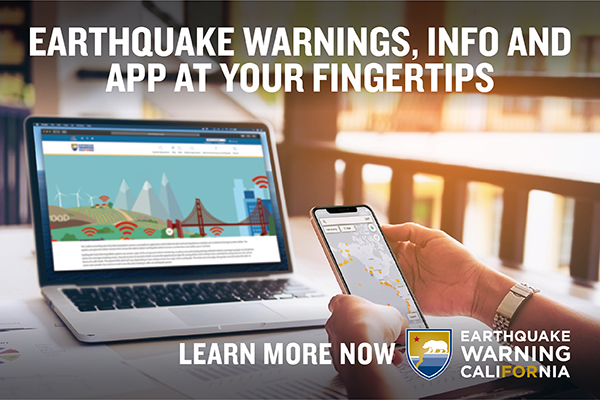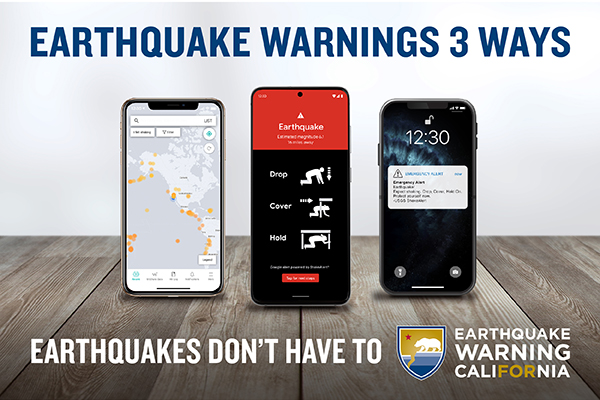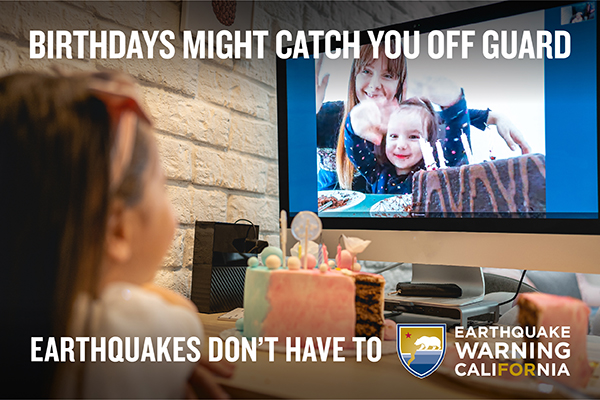 3rd Party Social Media Images
To download images, right click and save image.
Facebook Images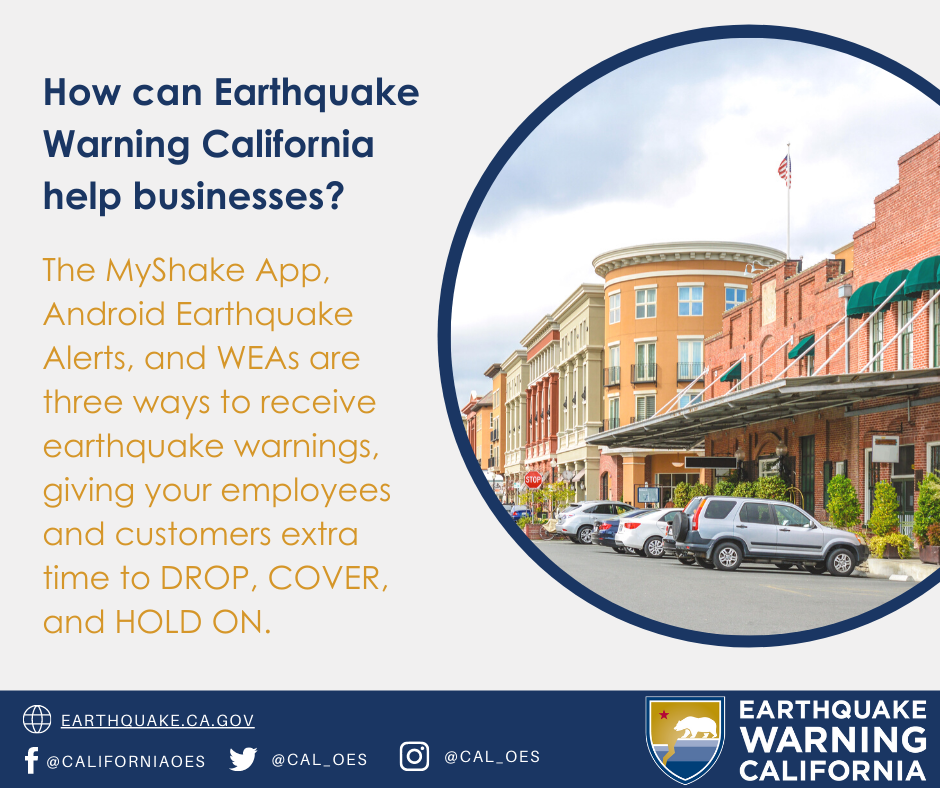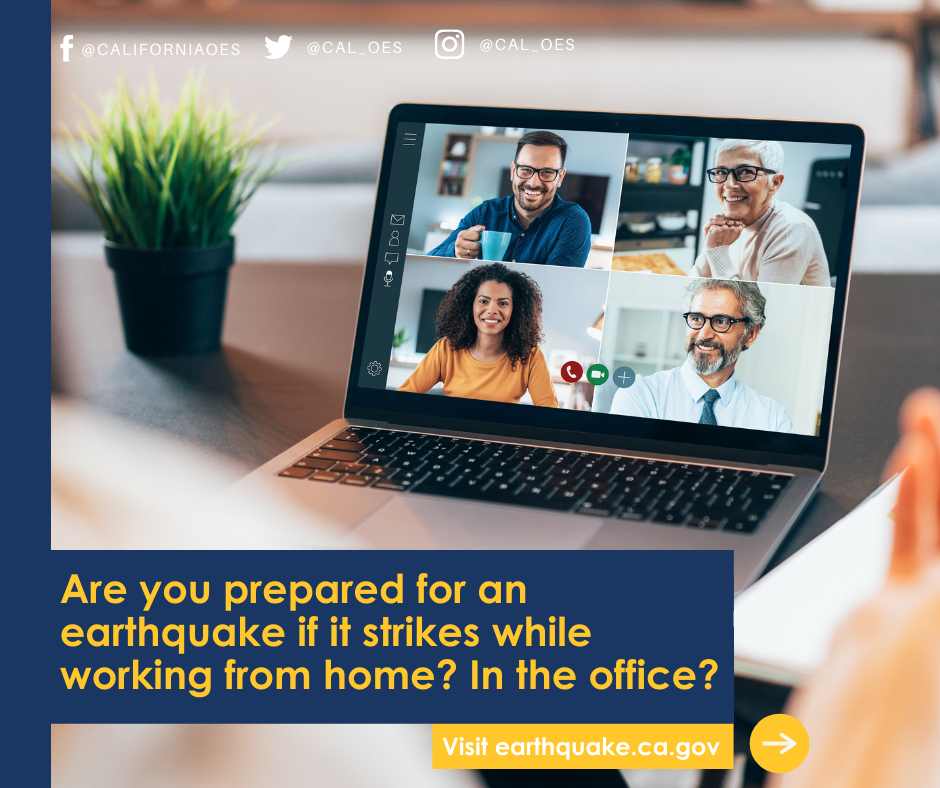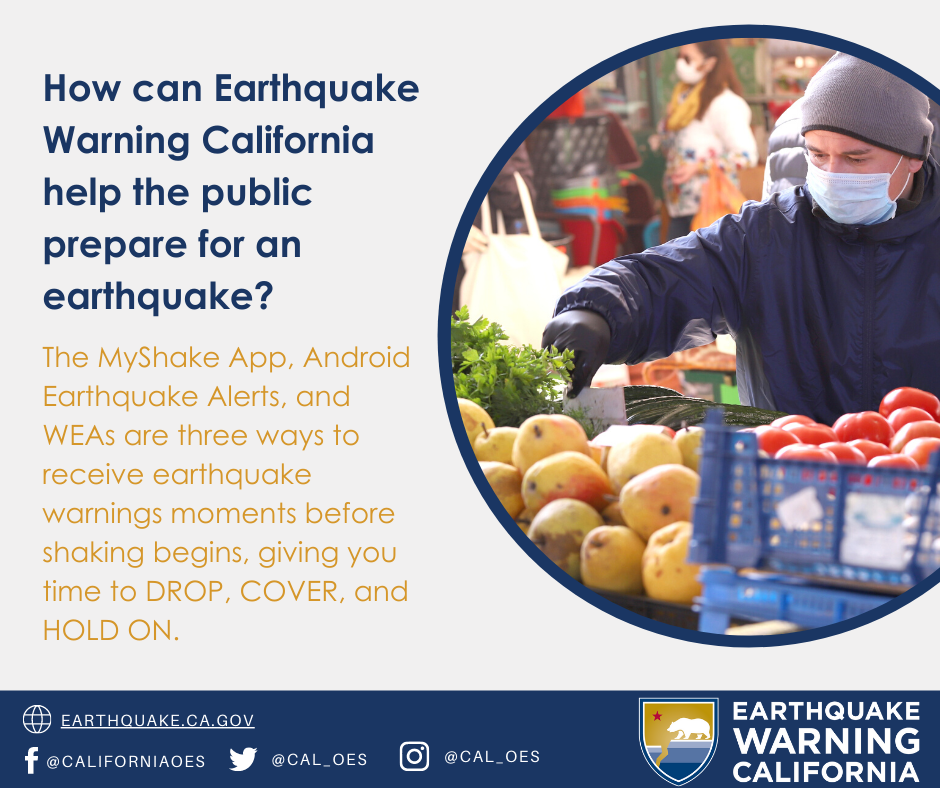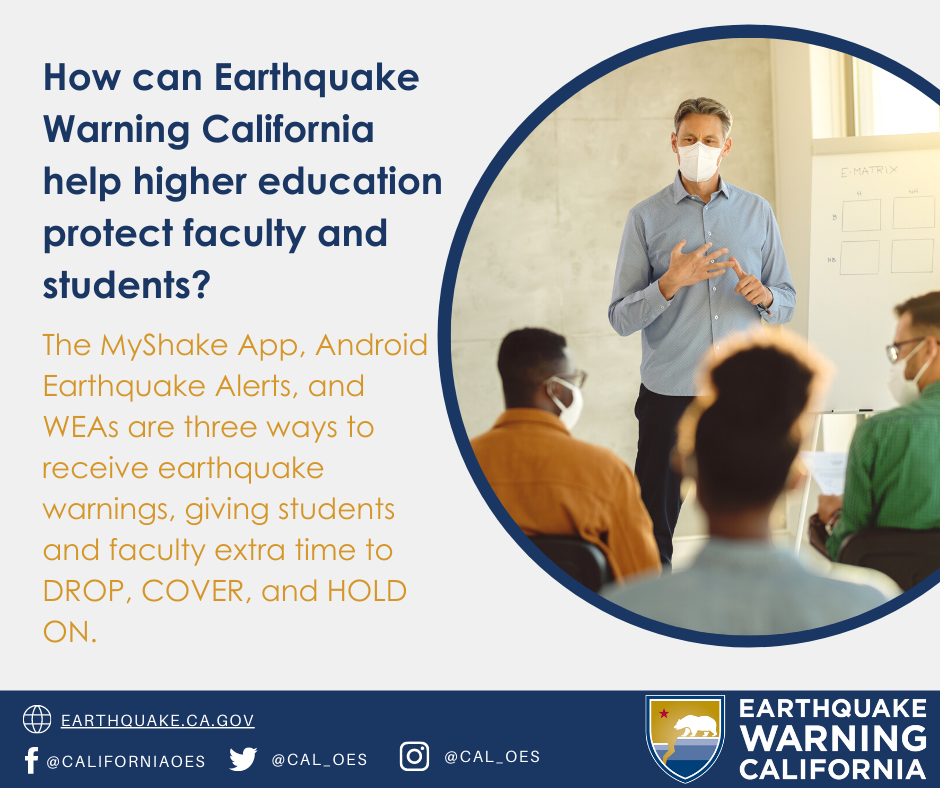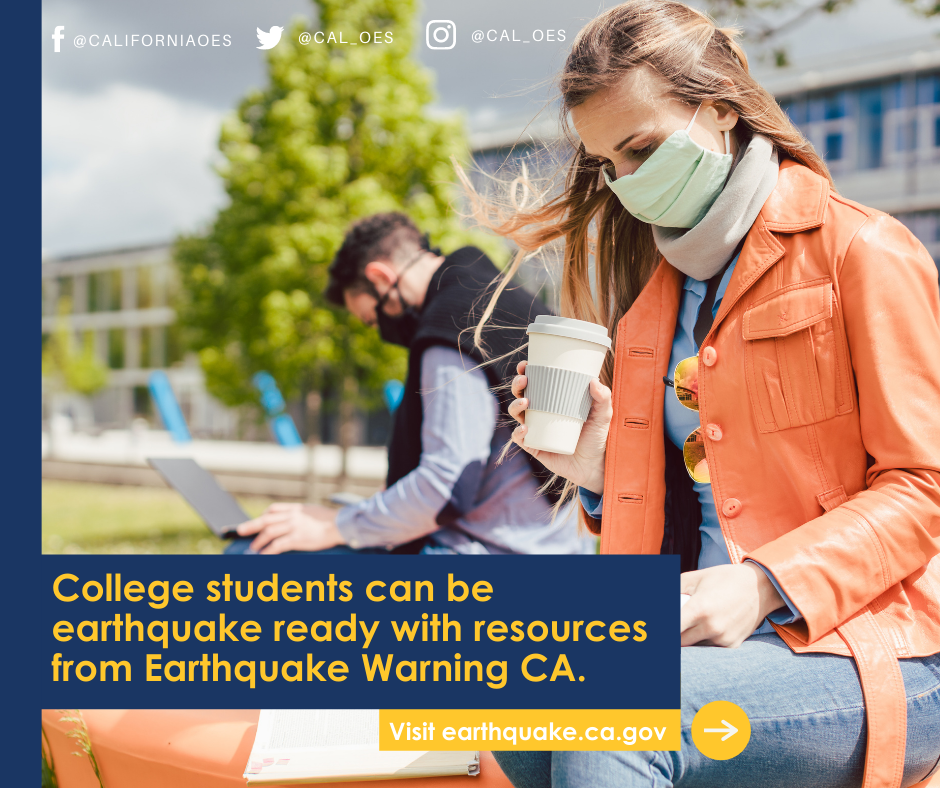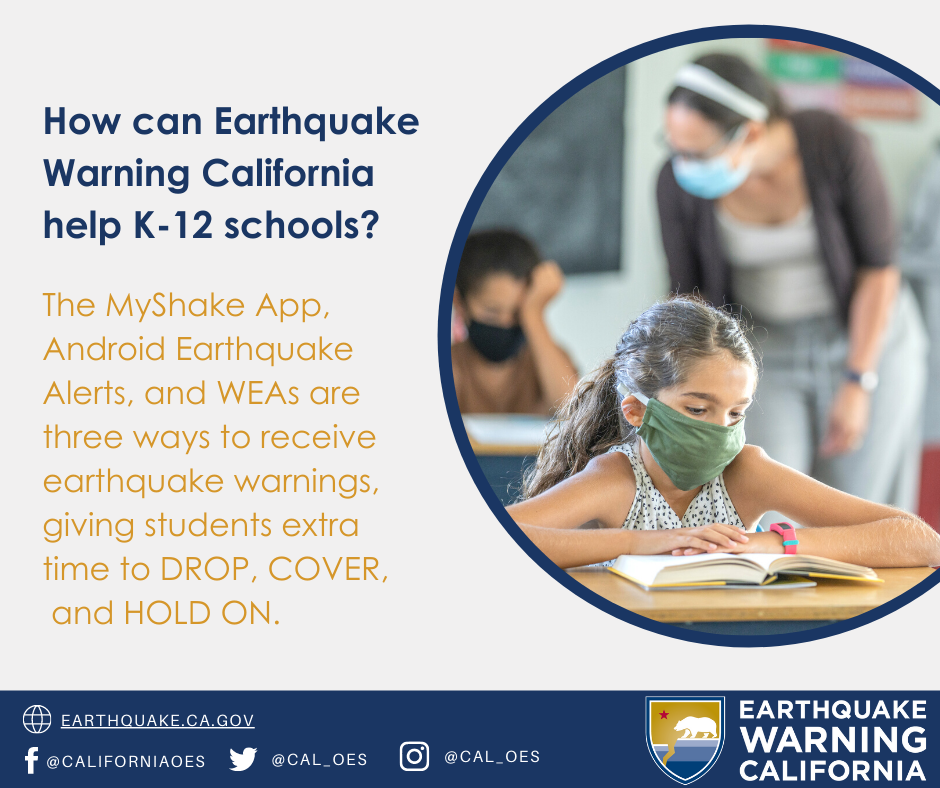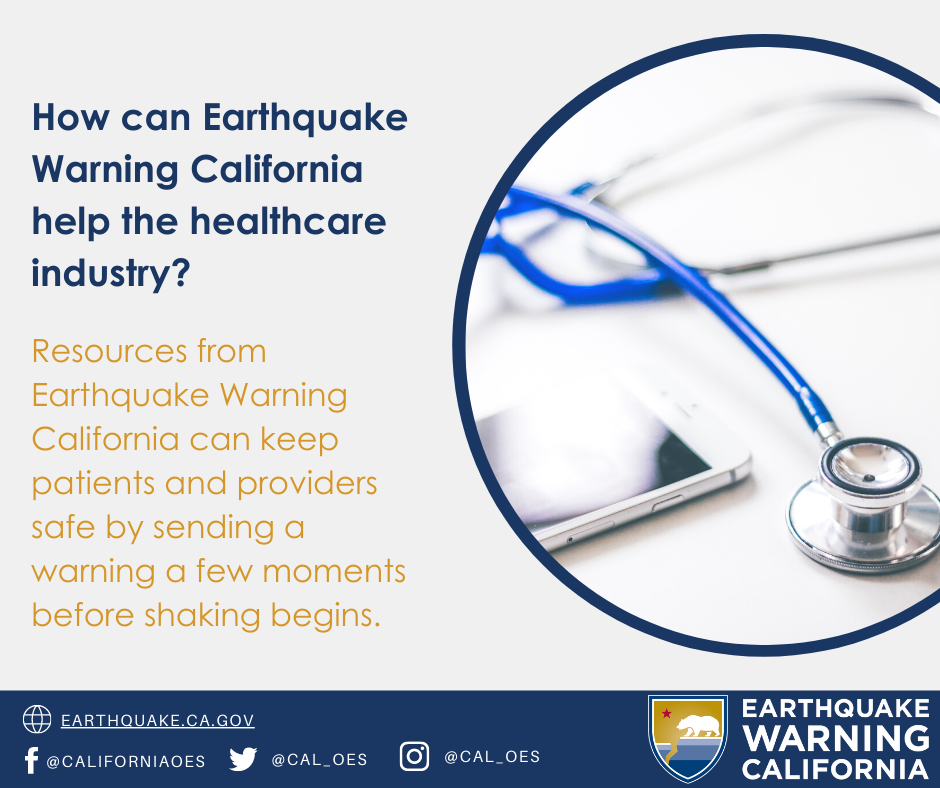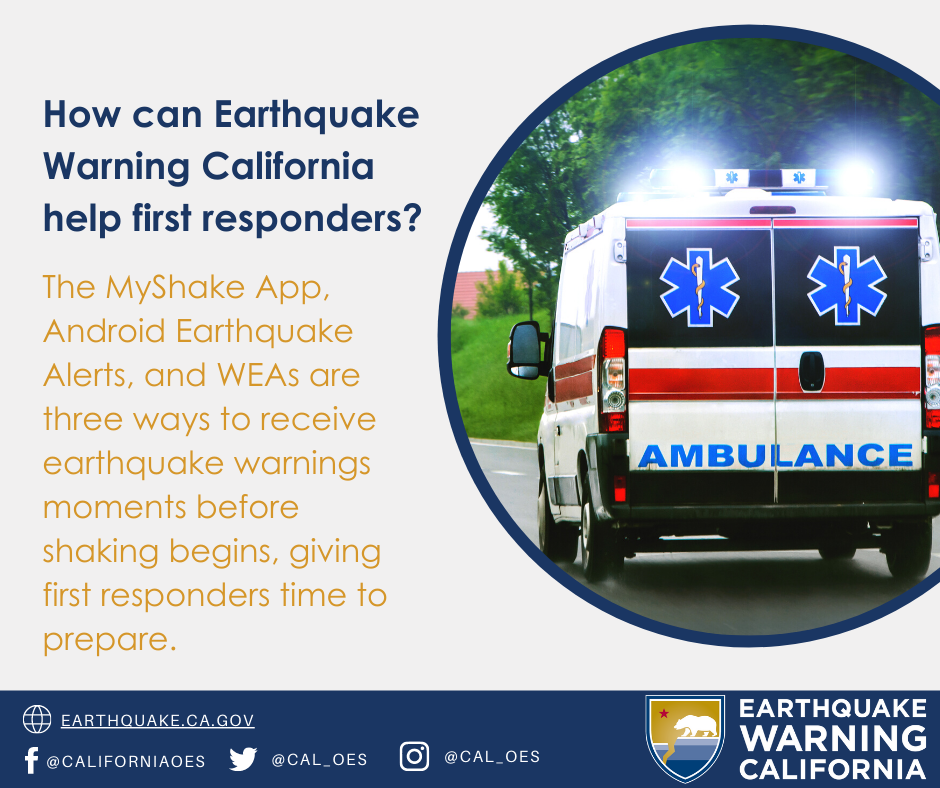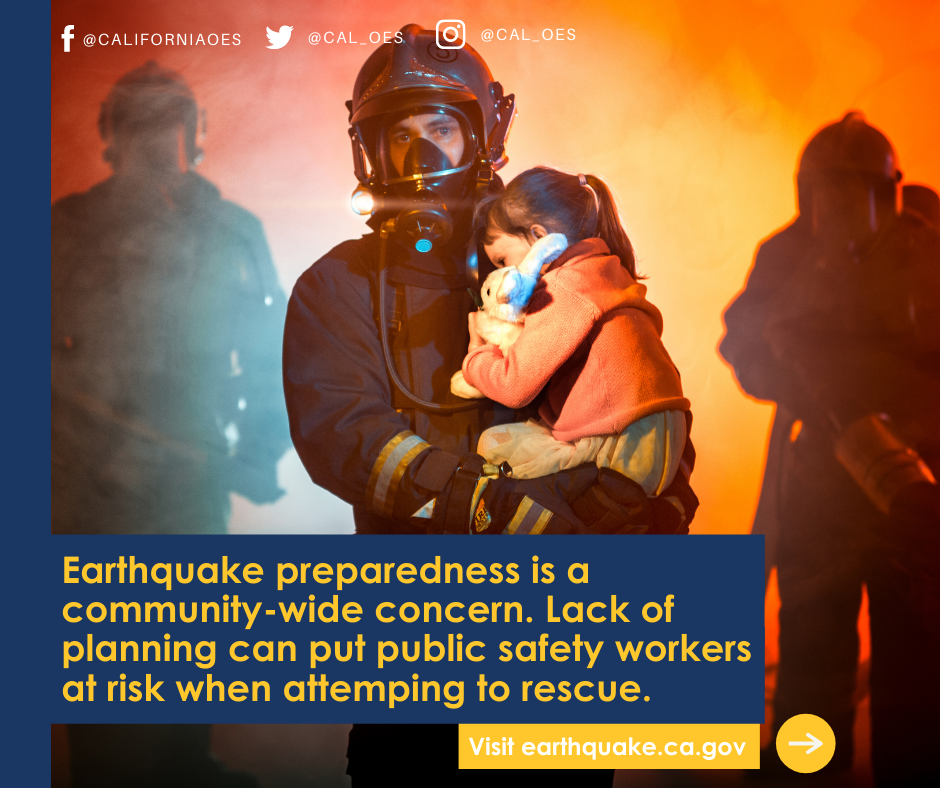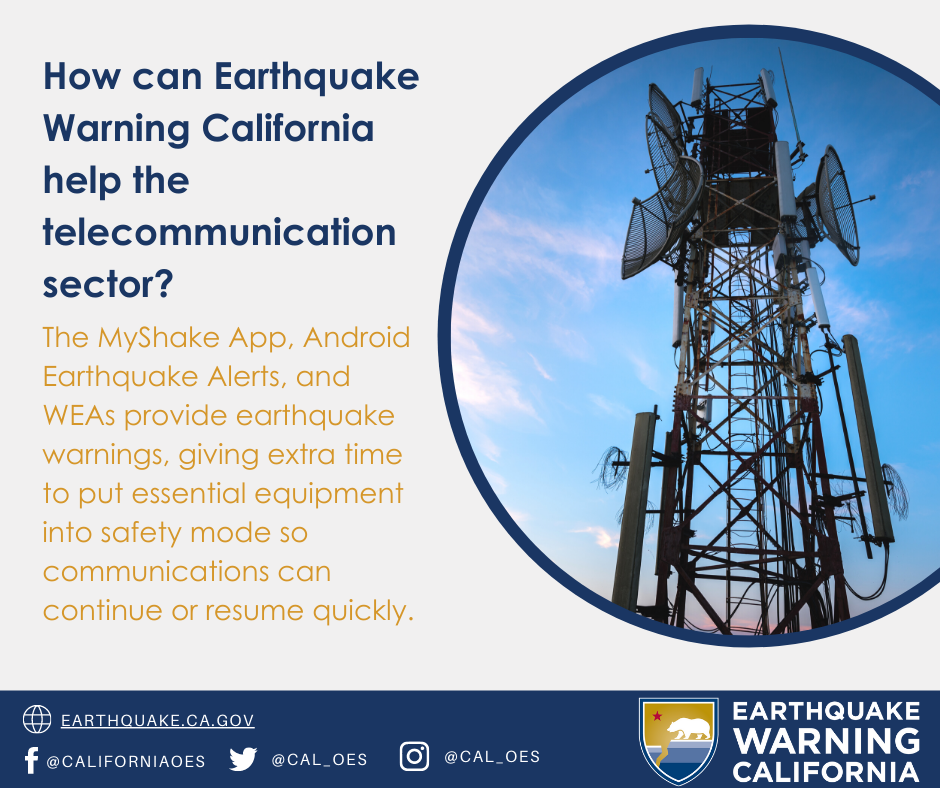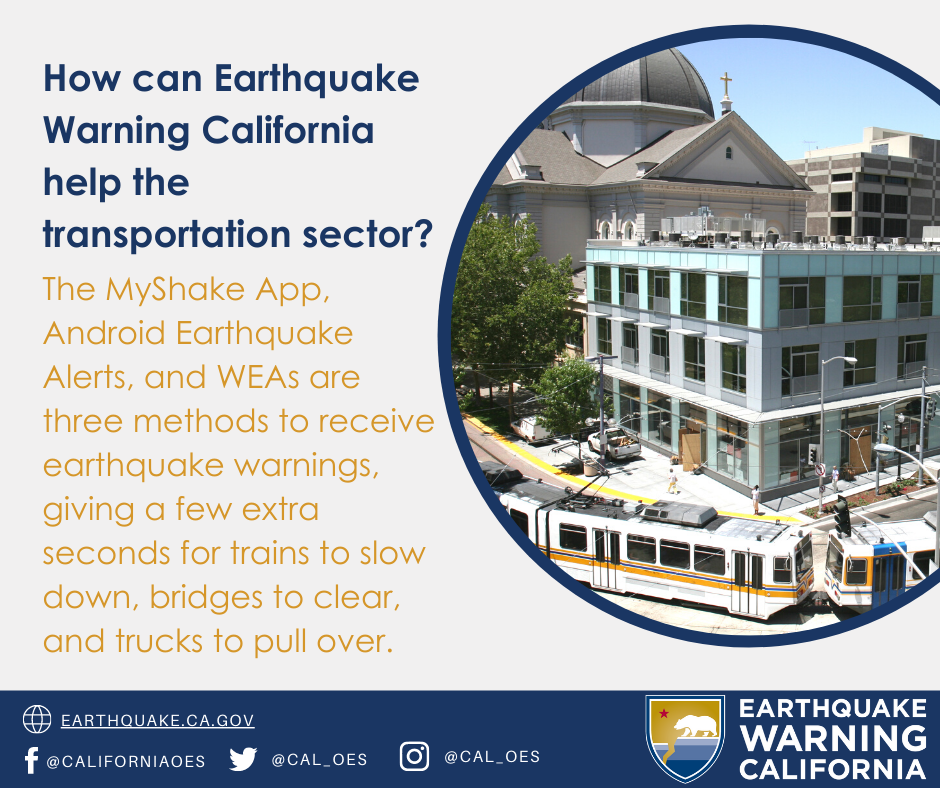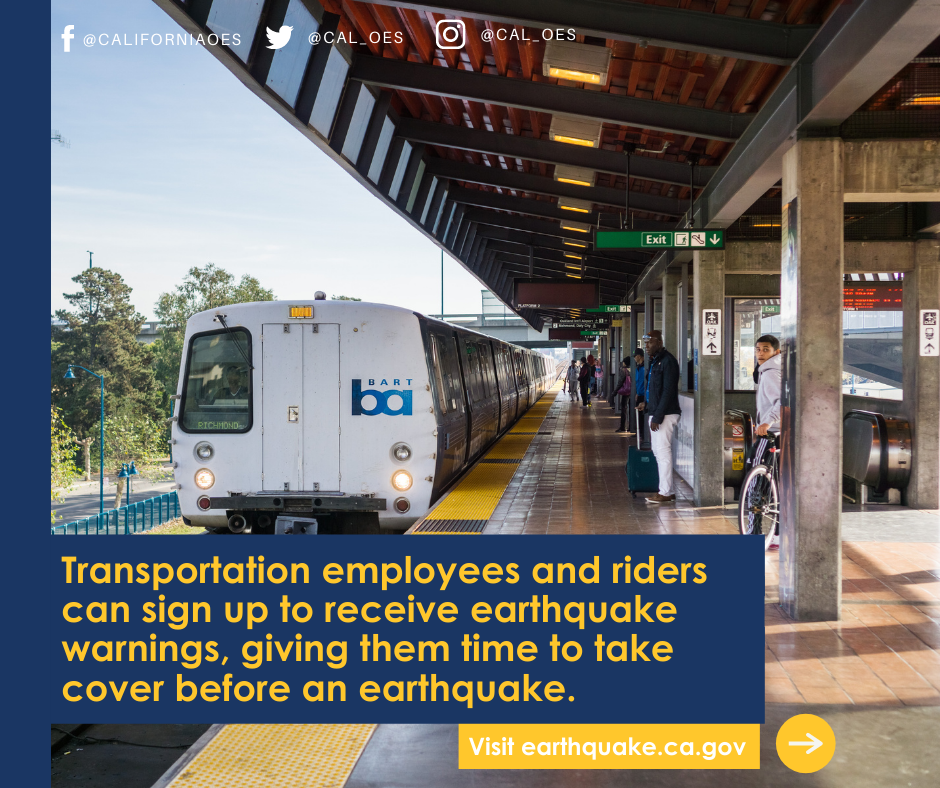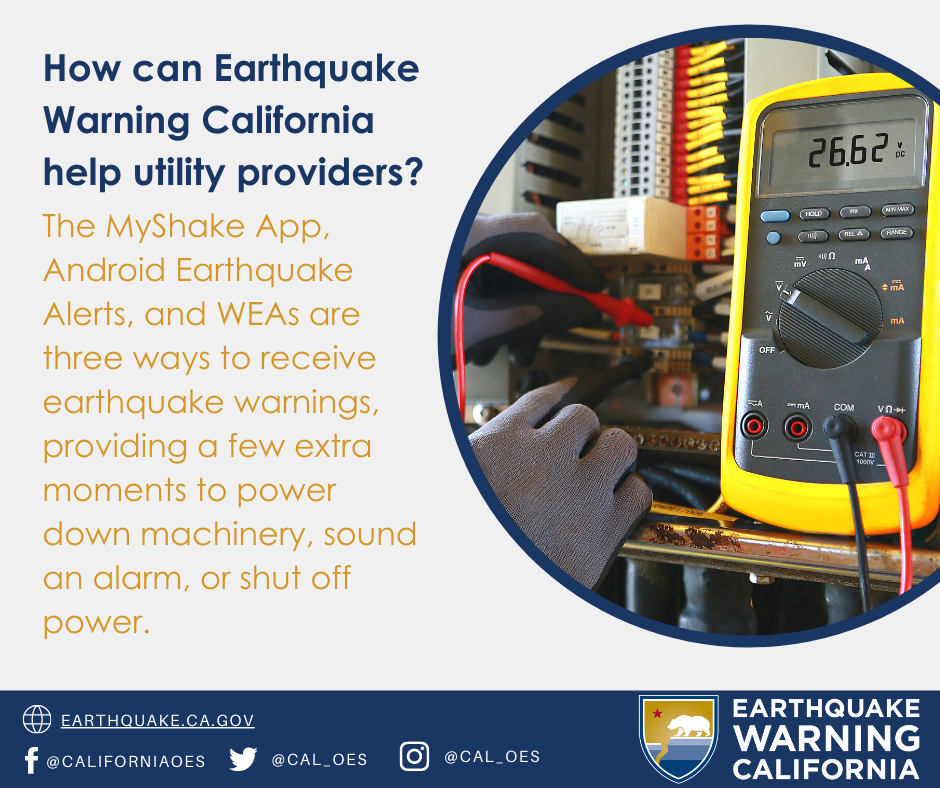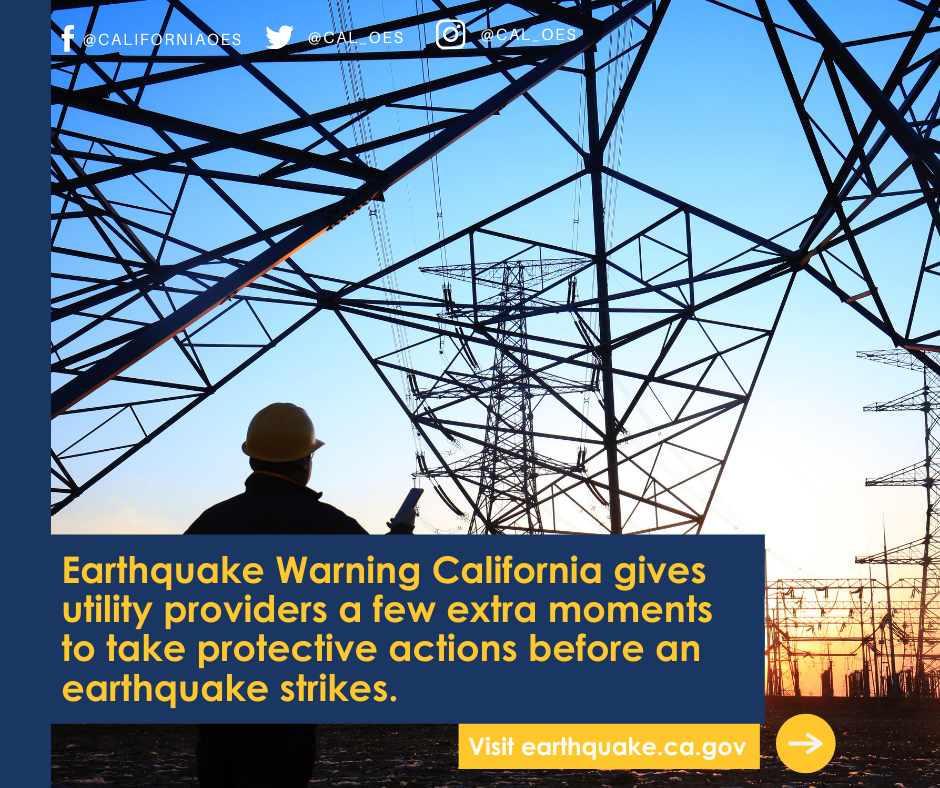 Twitter Images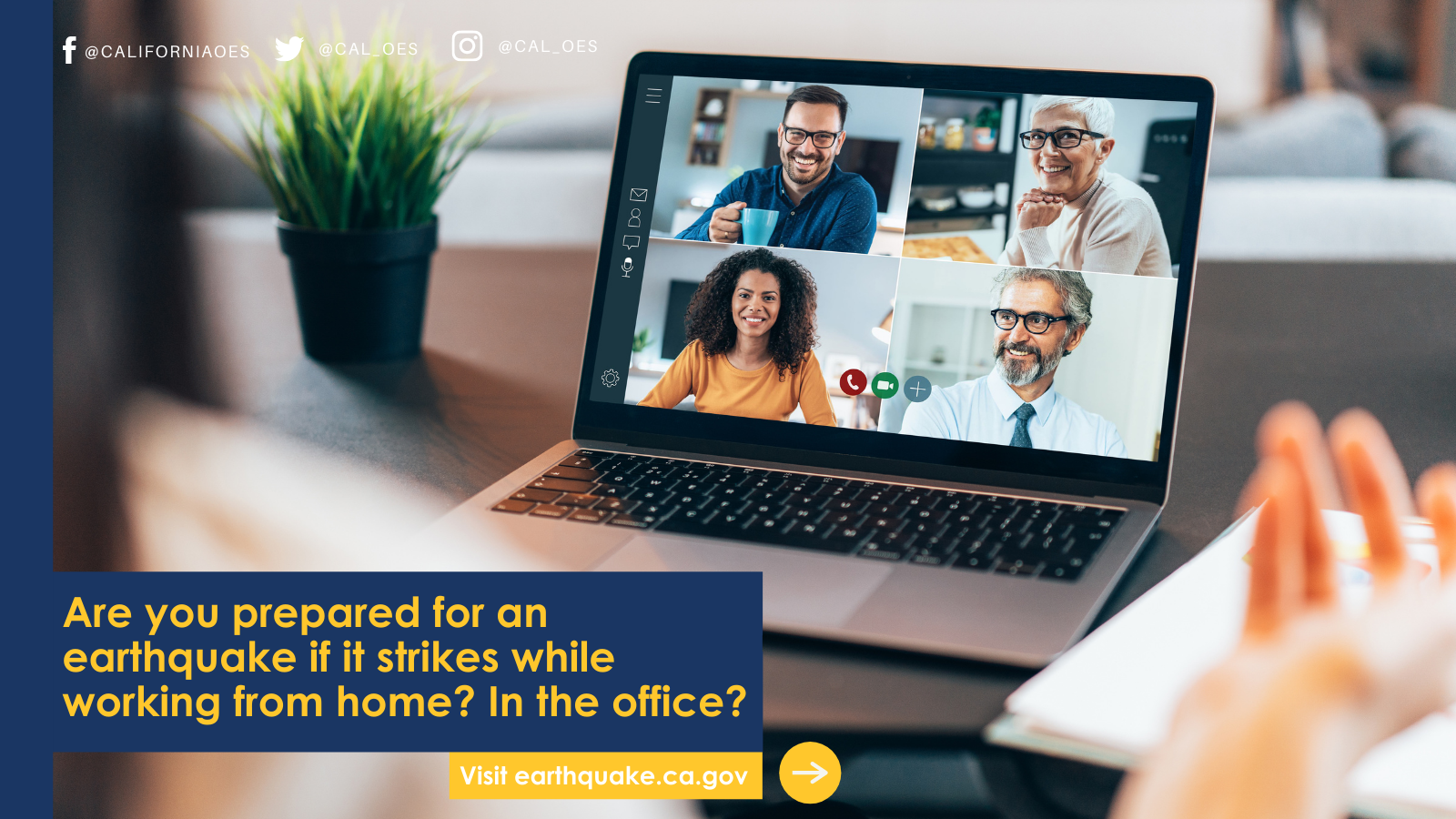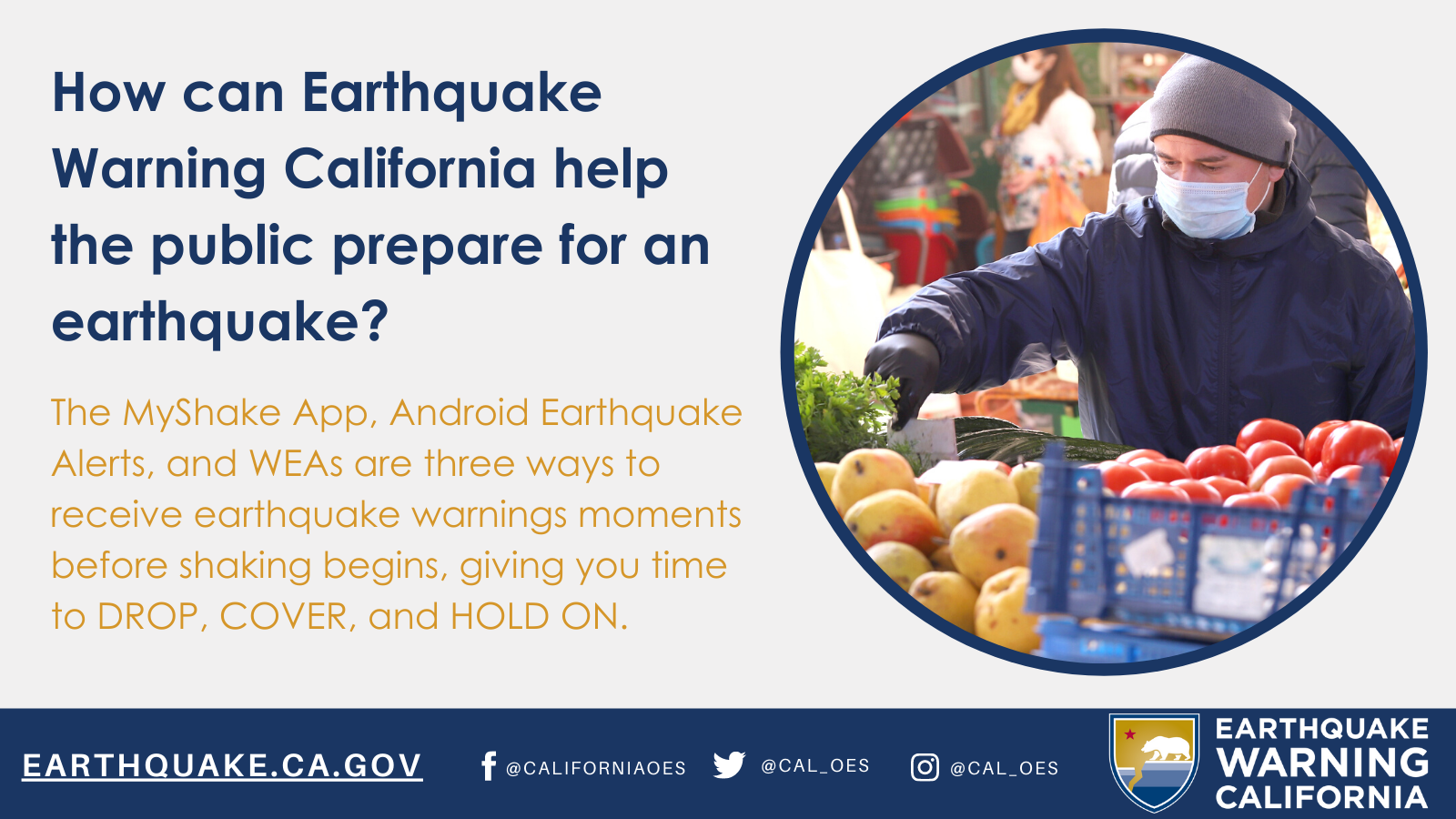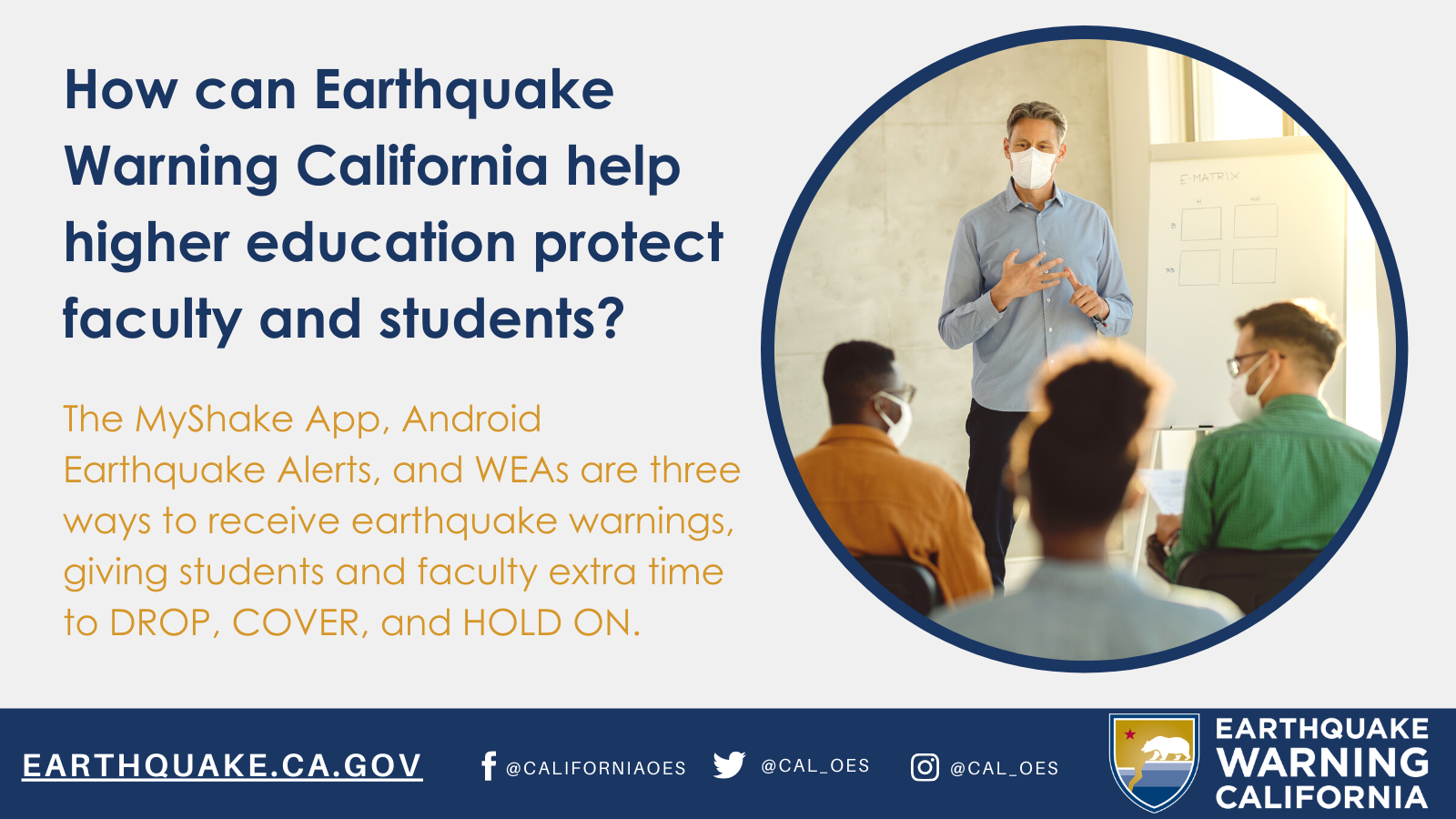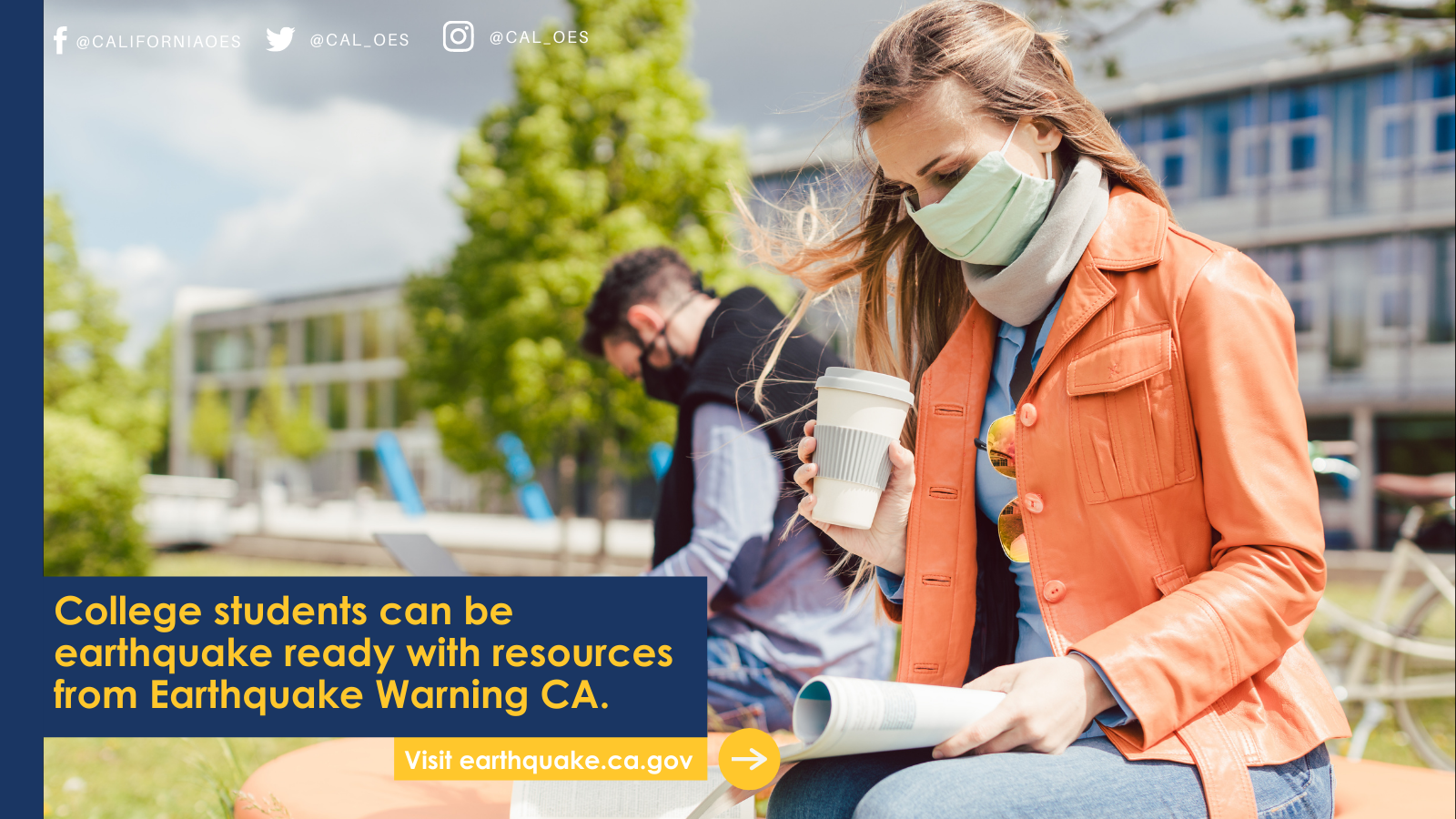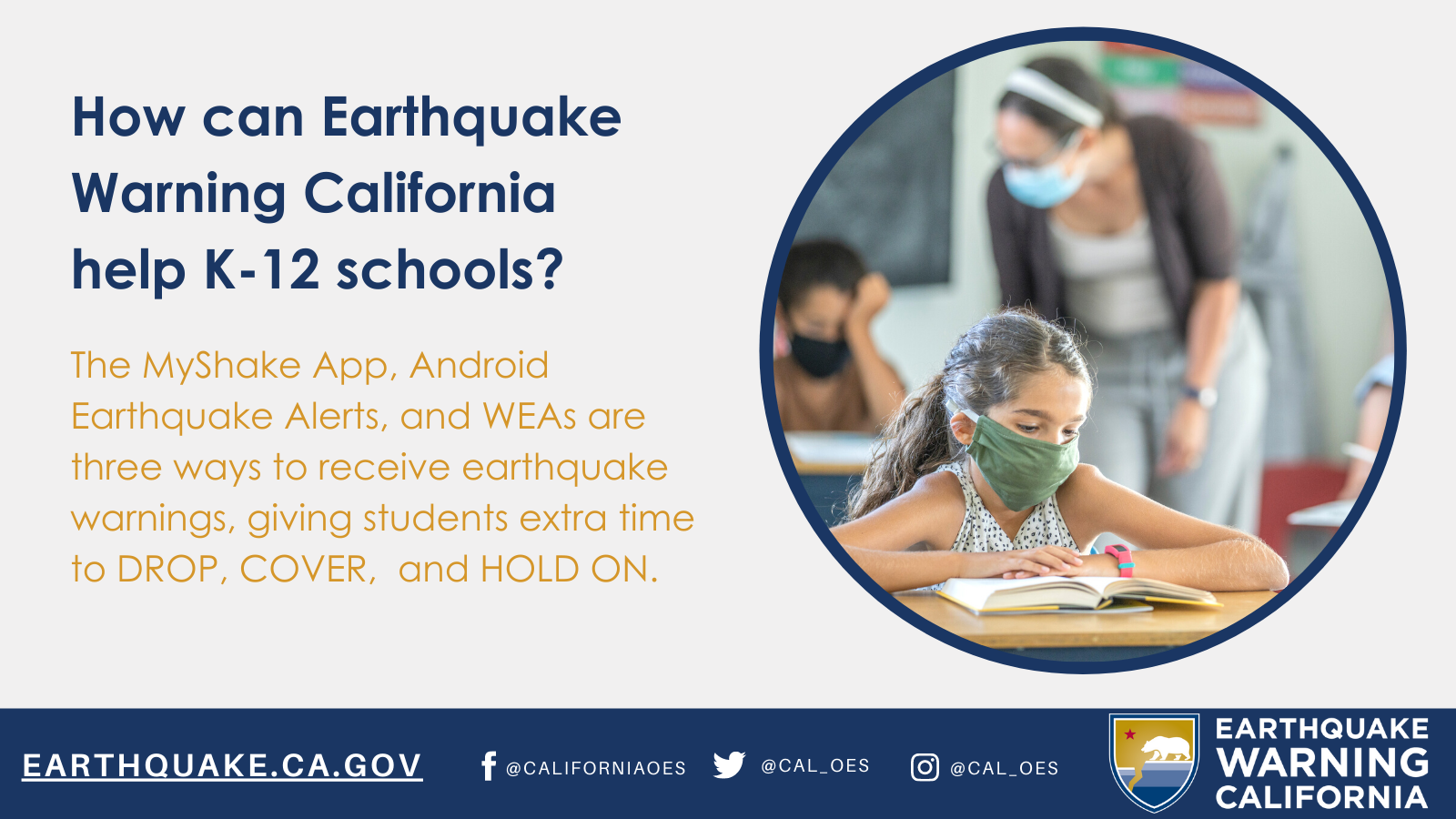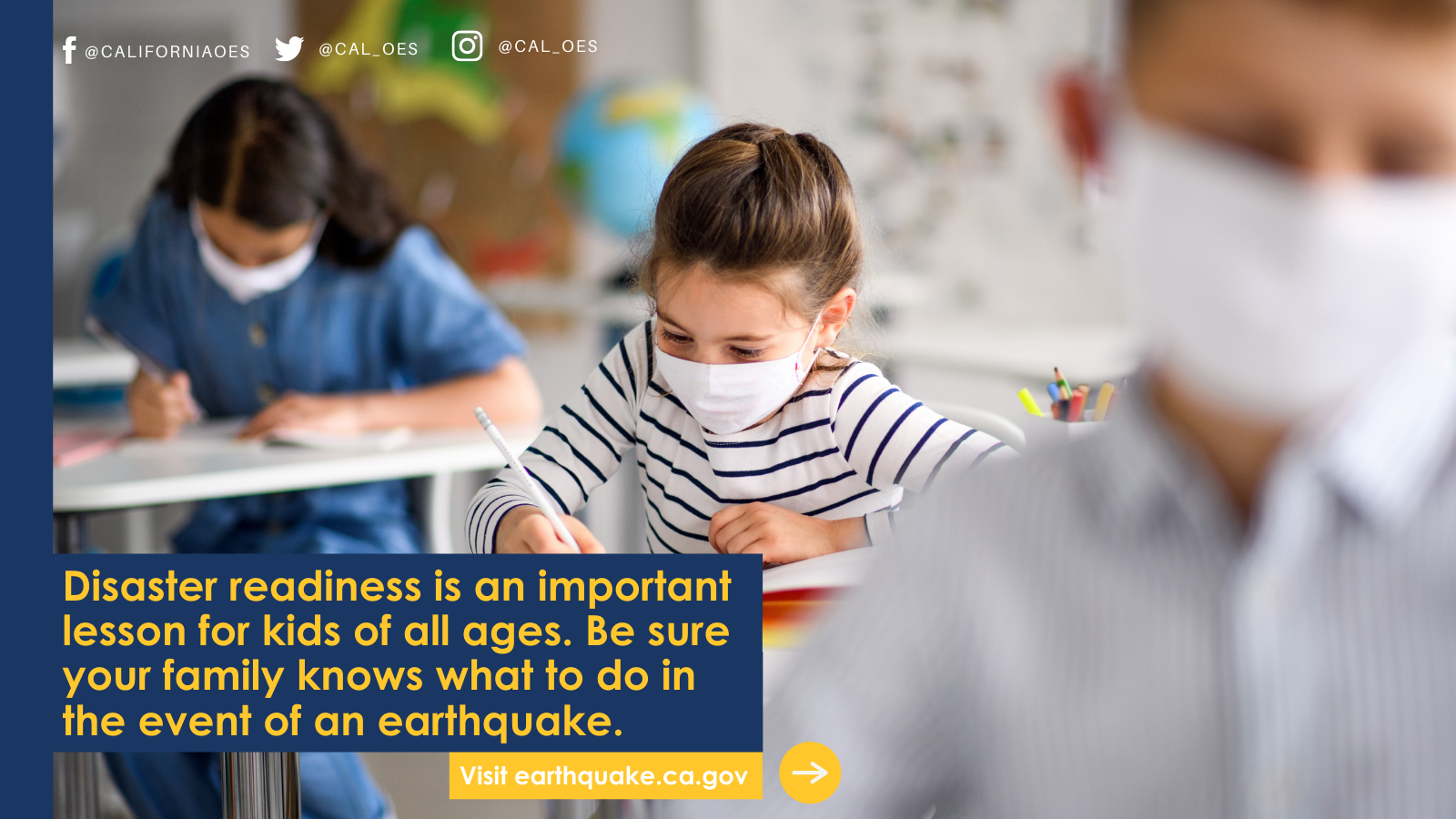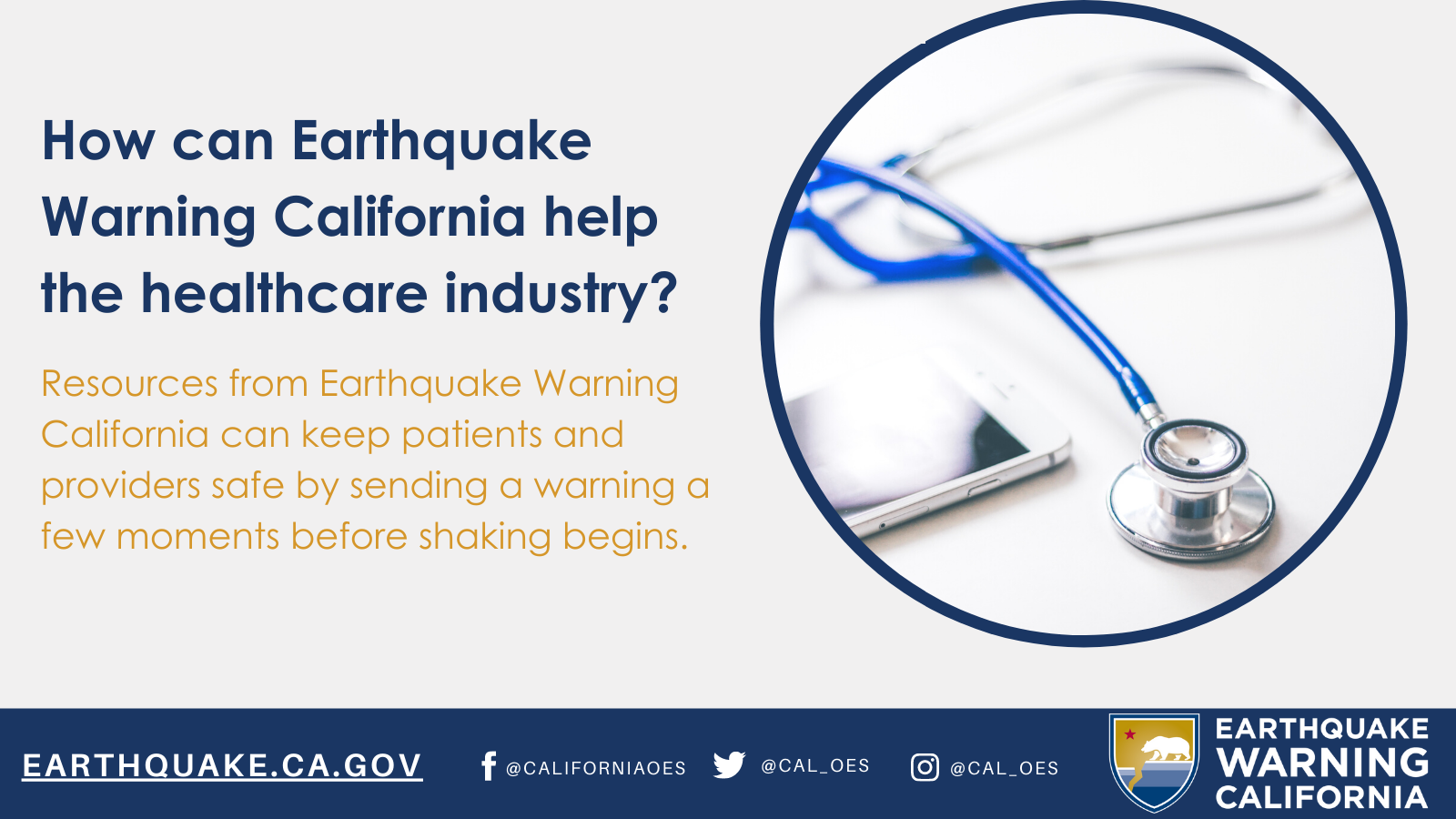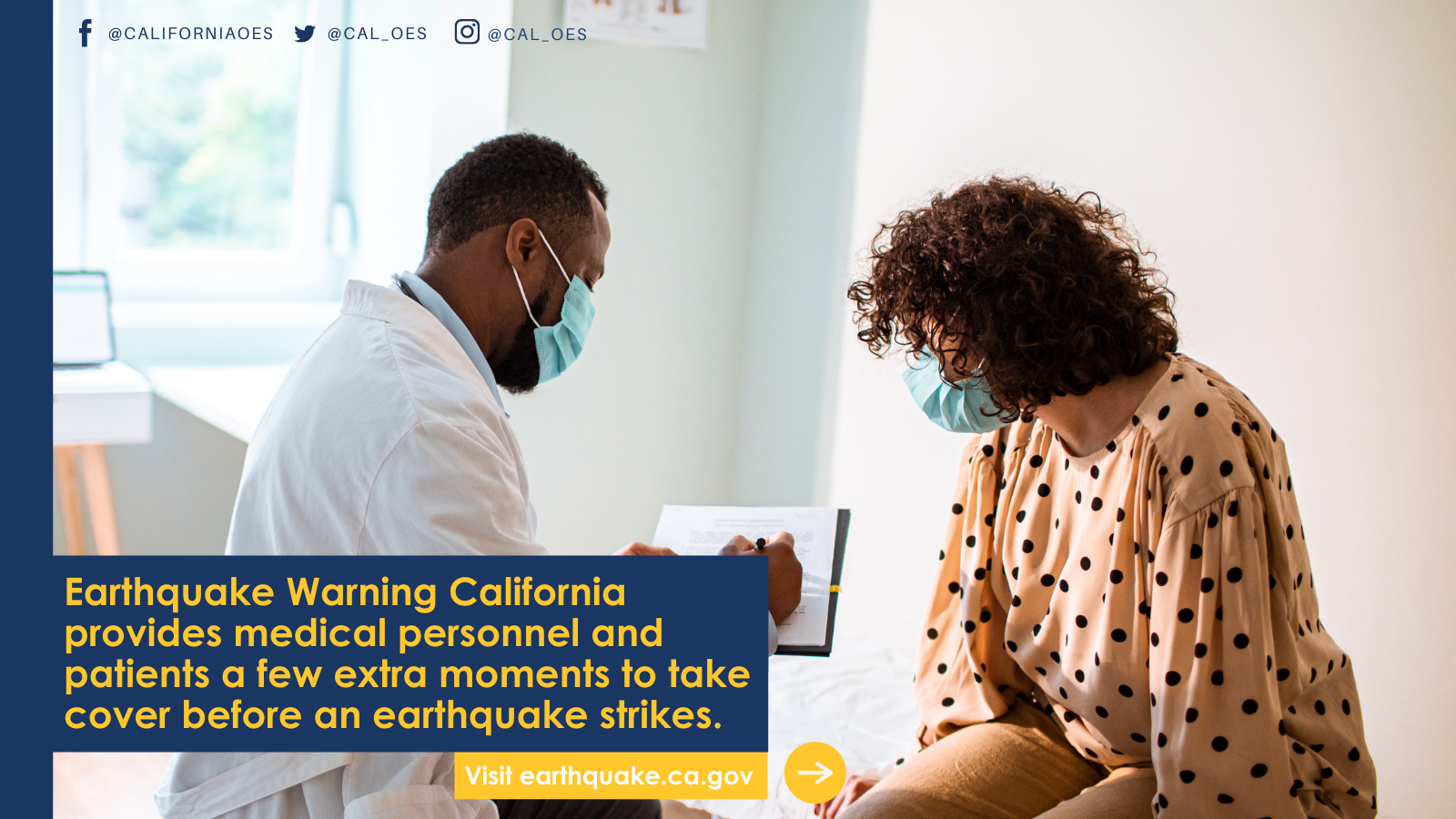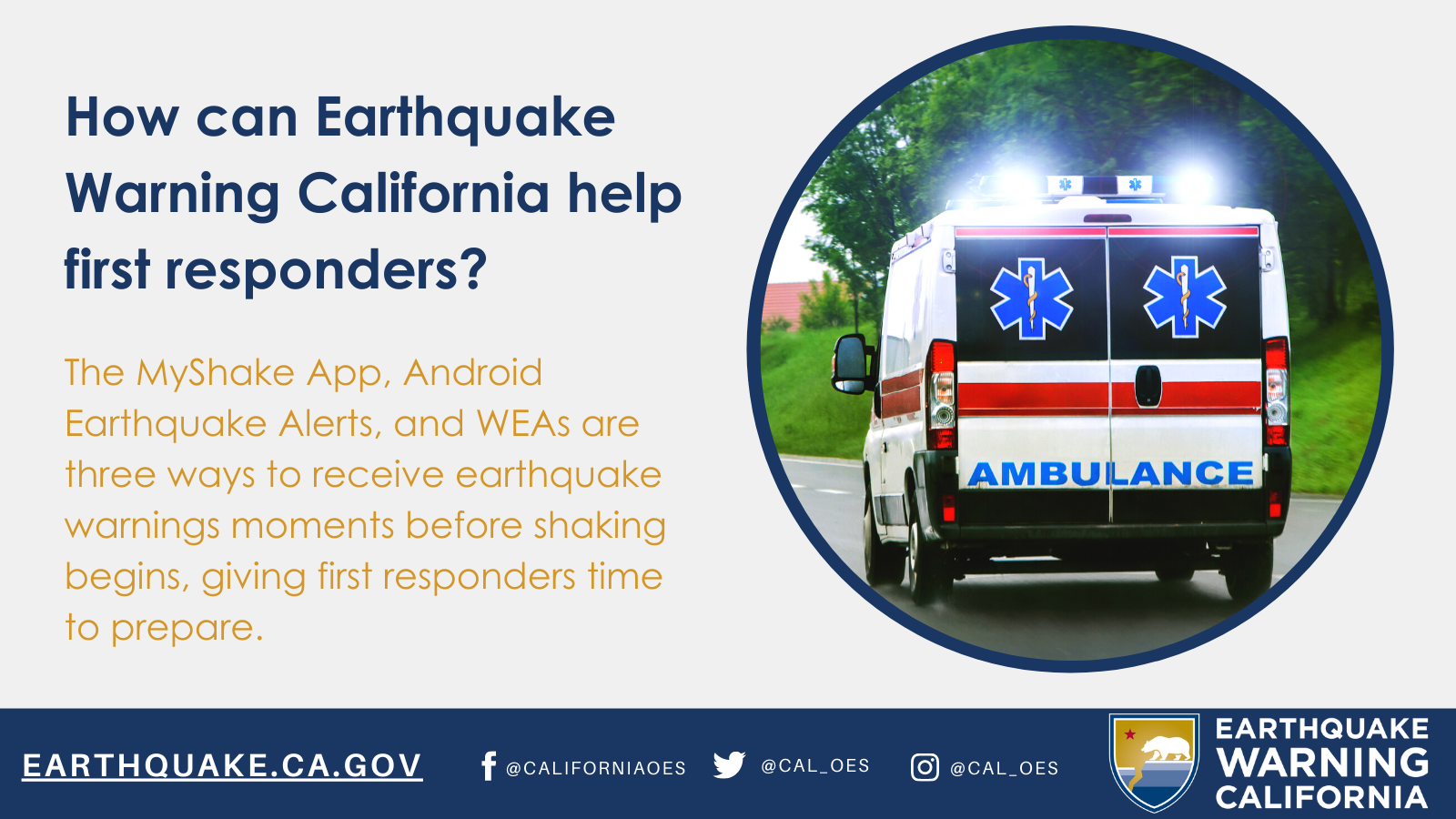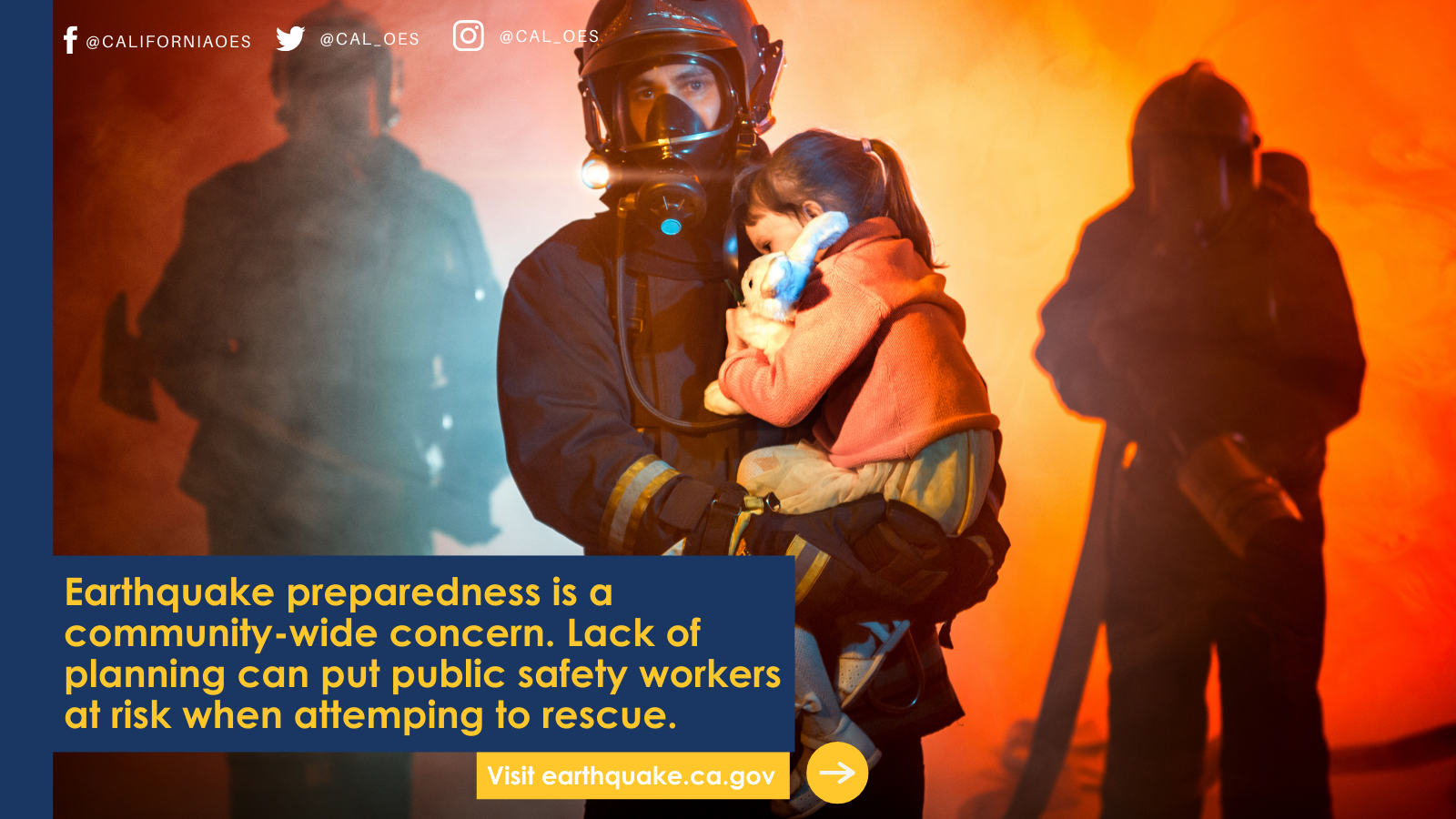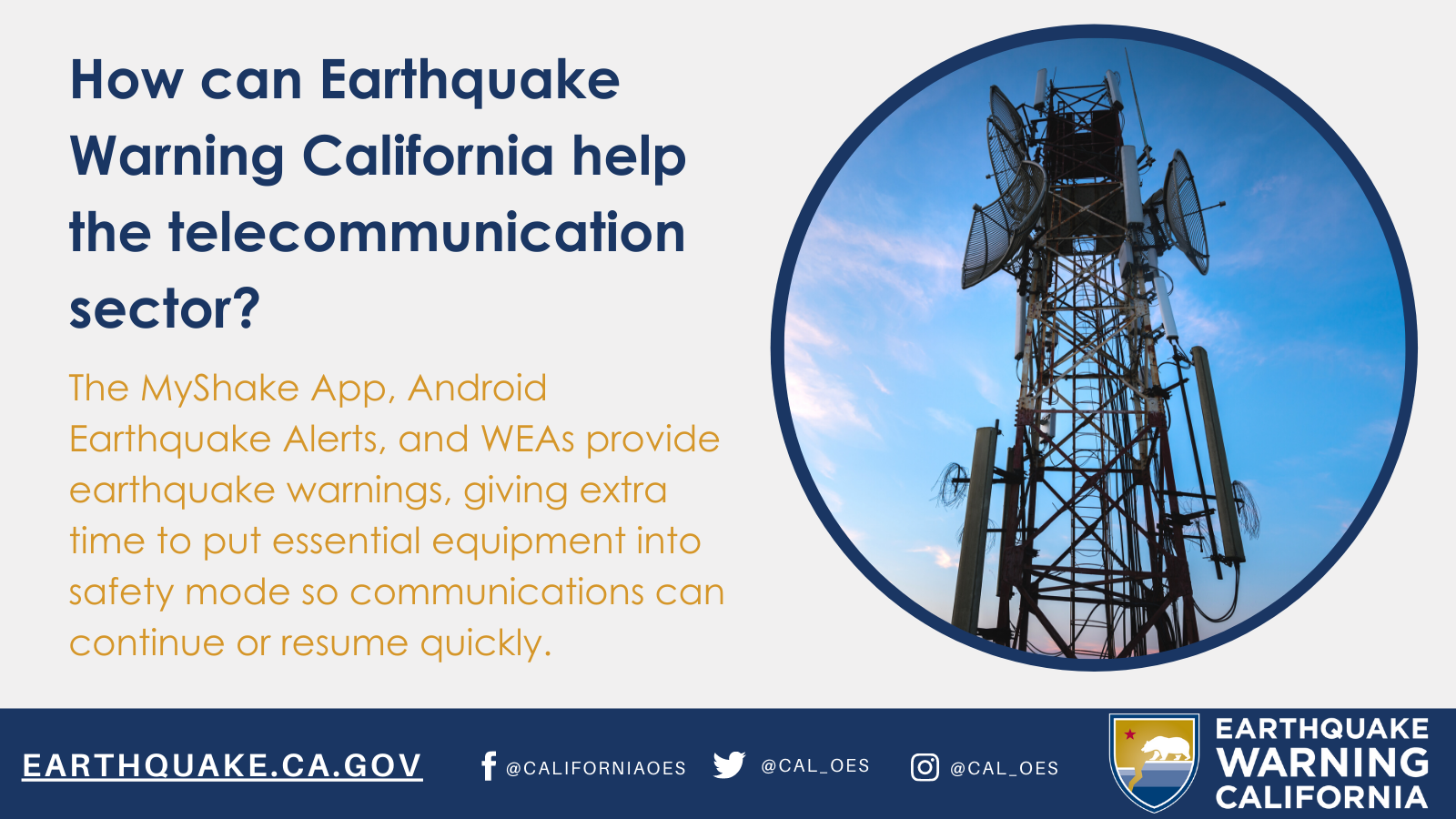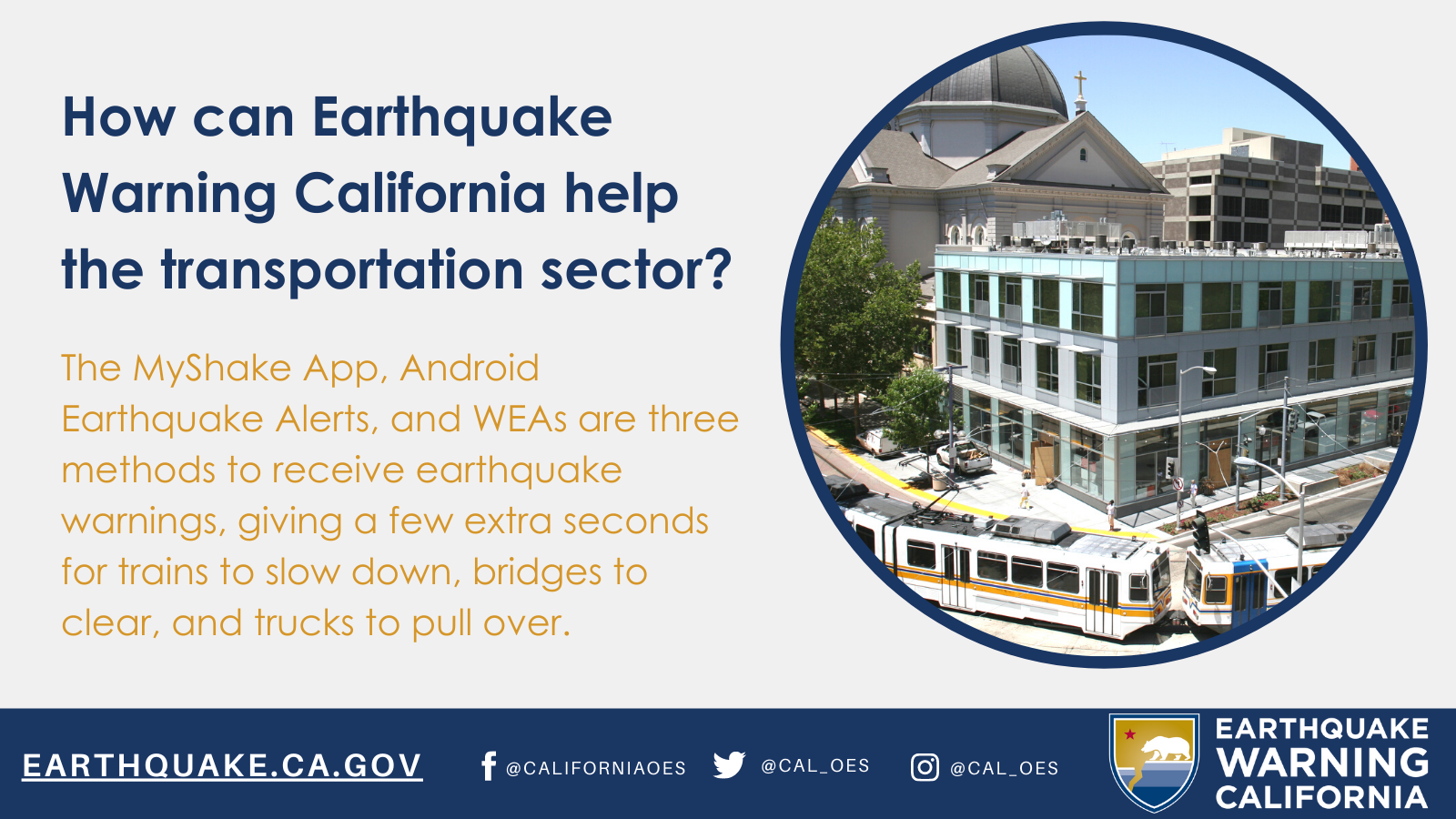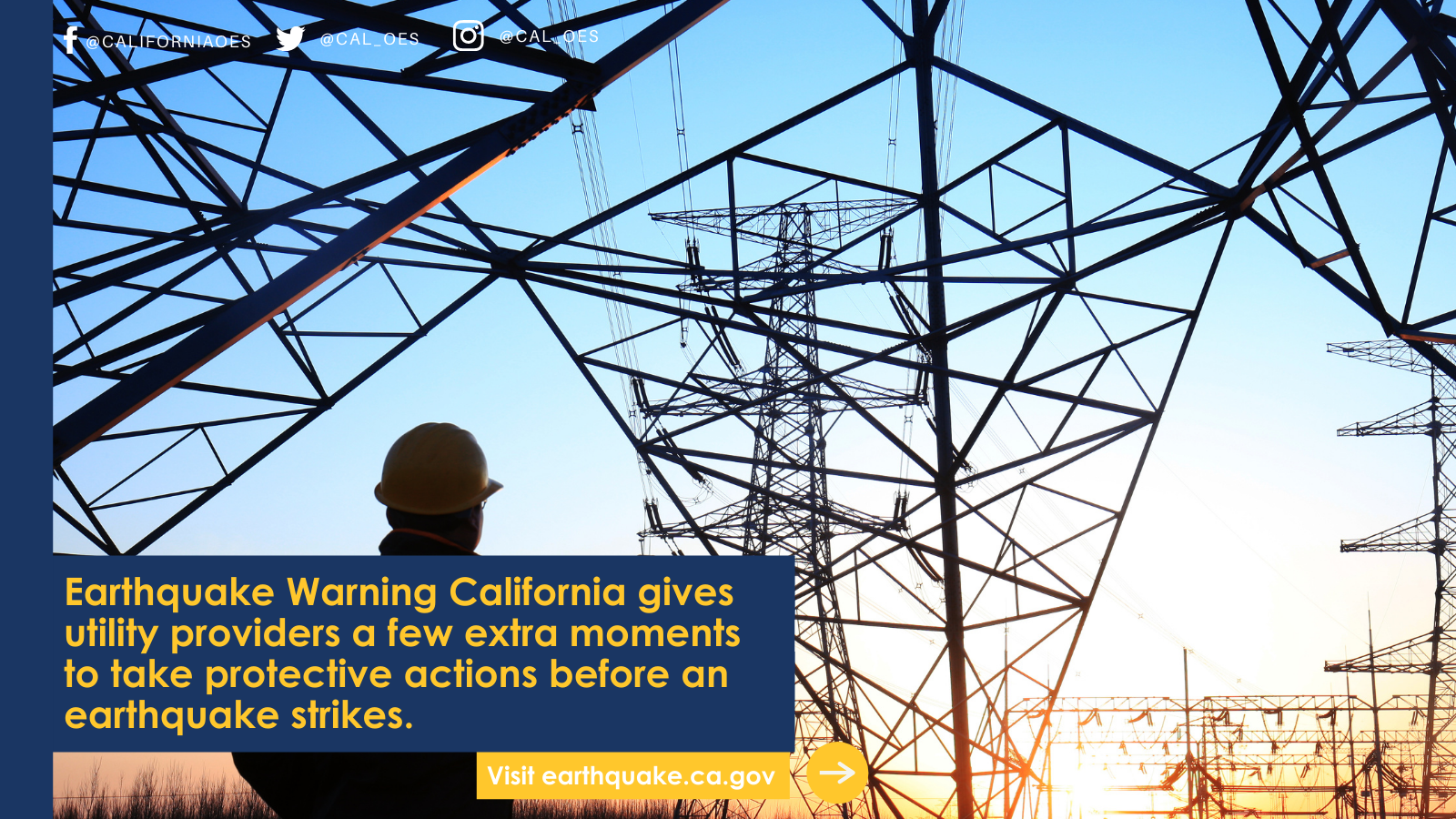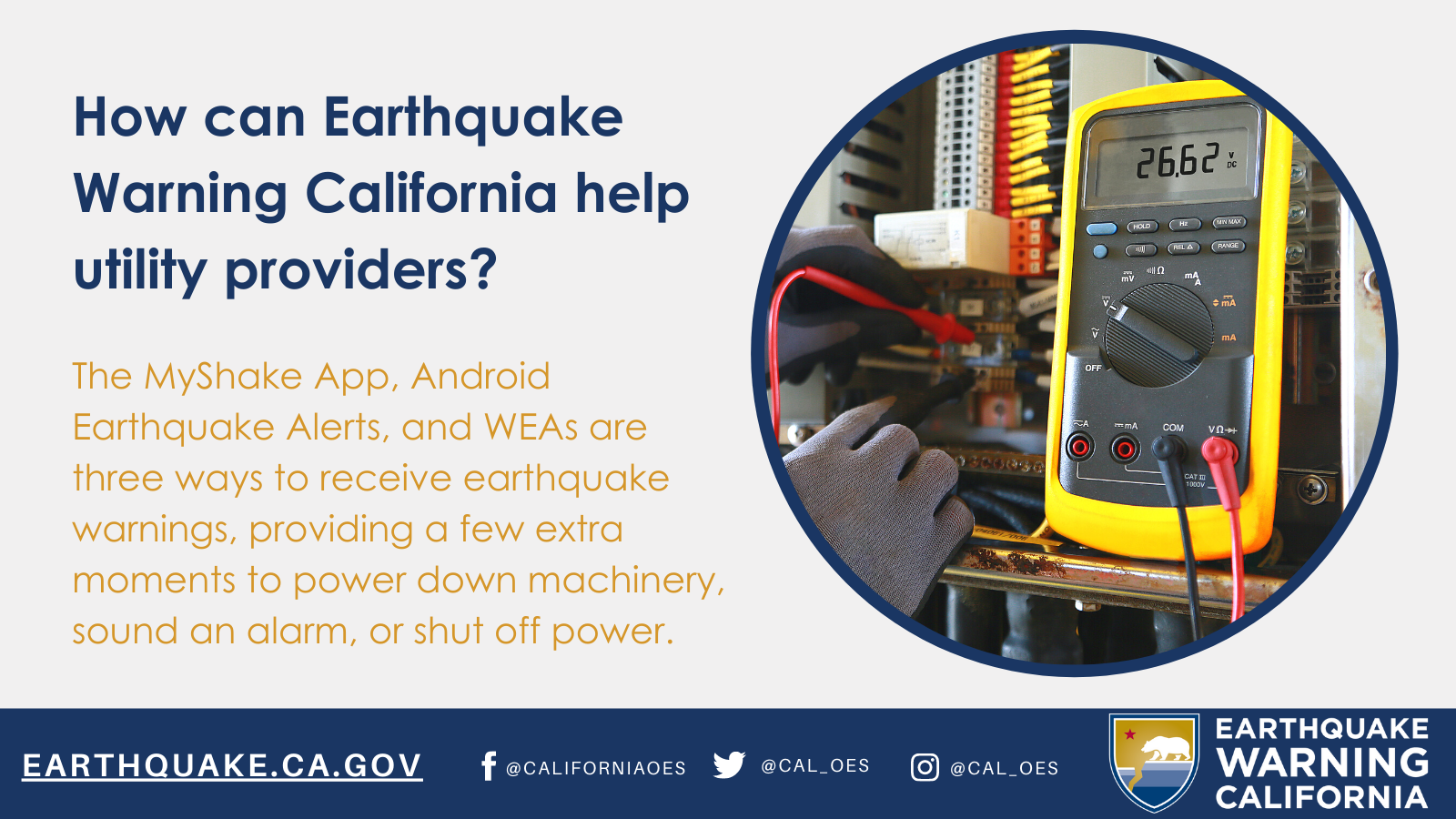 Instagram Images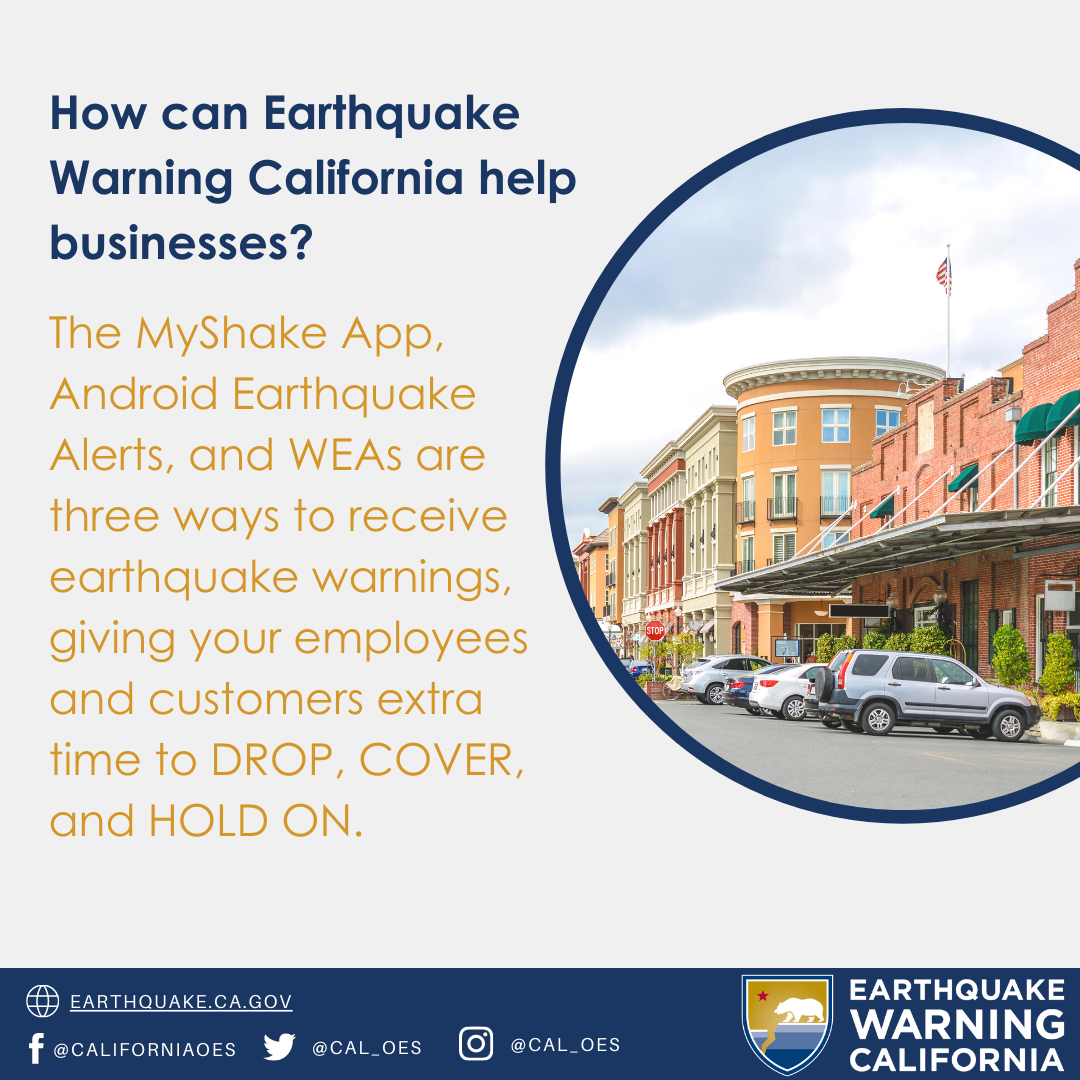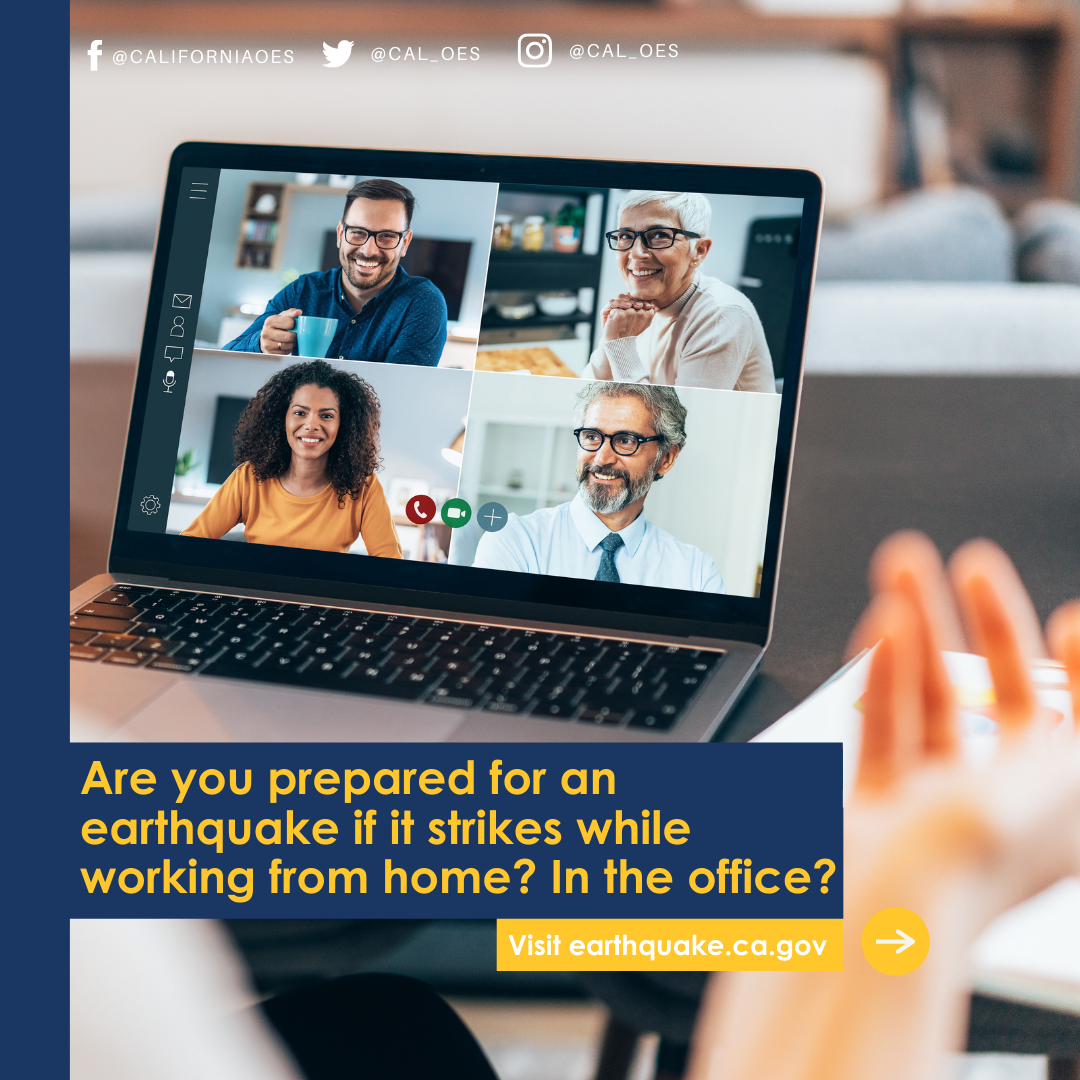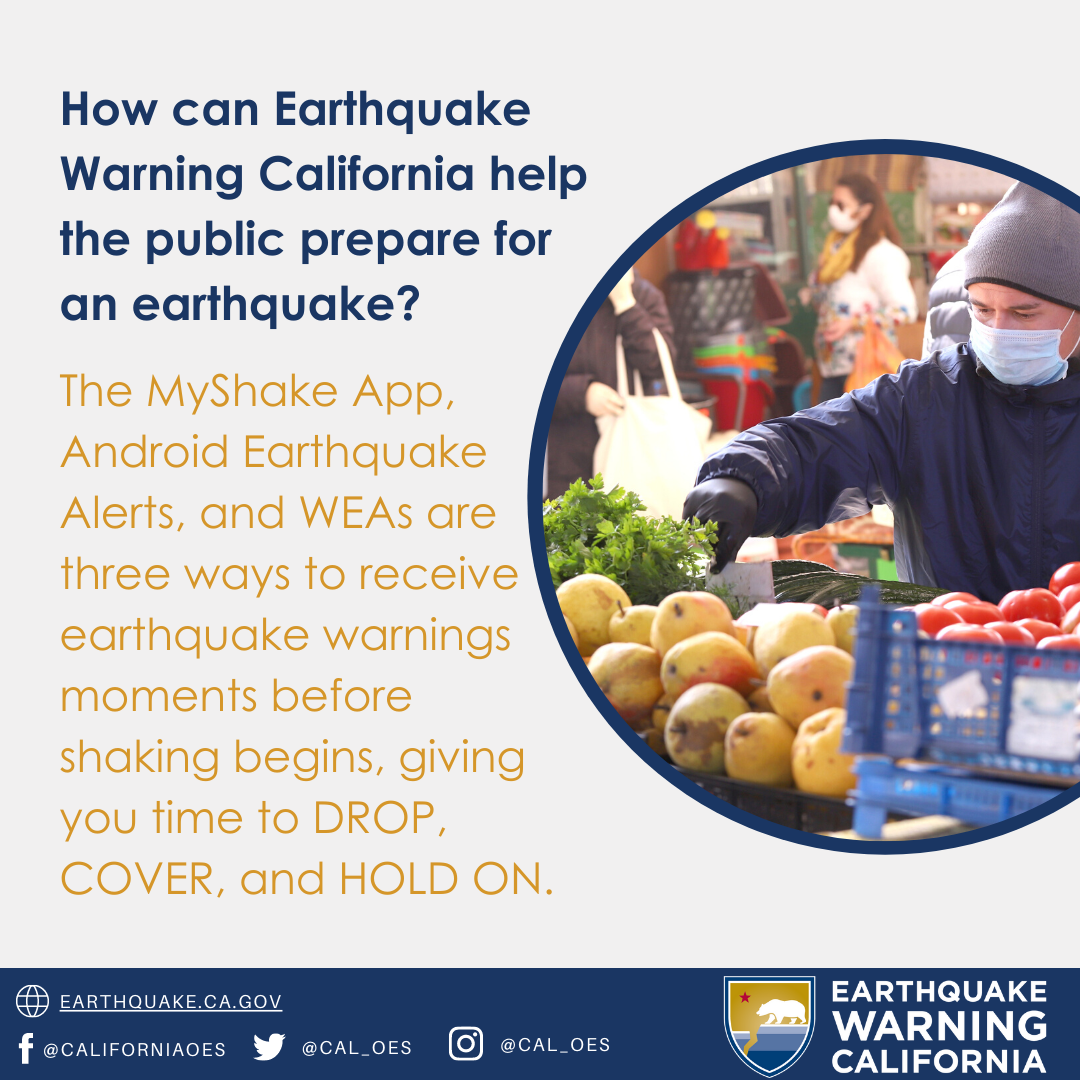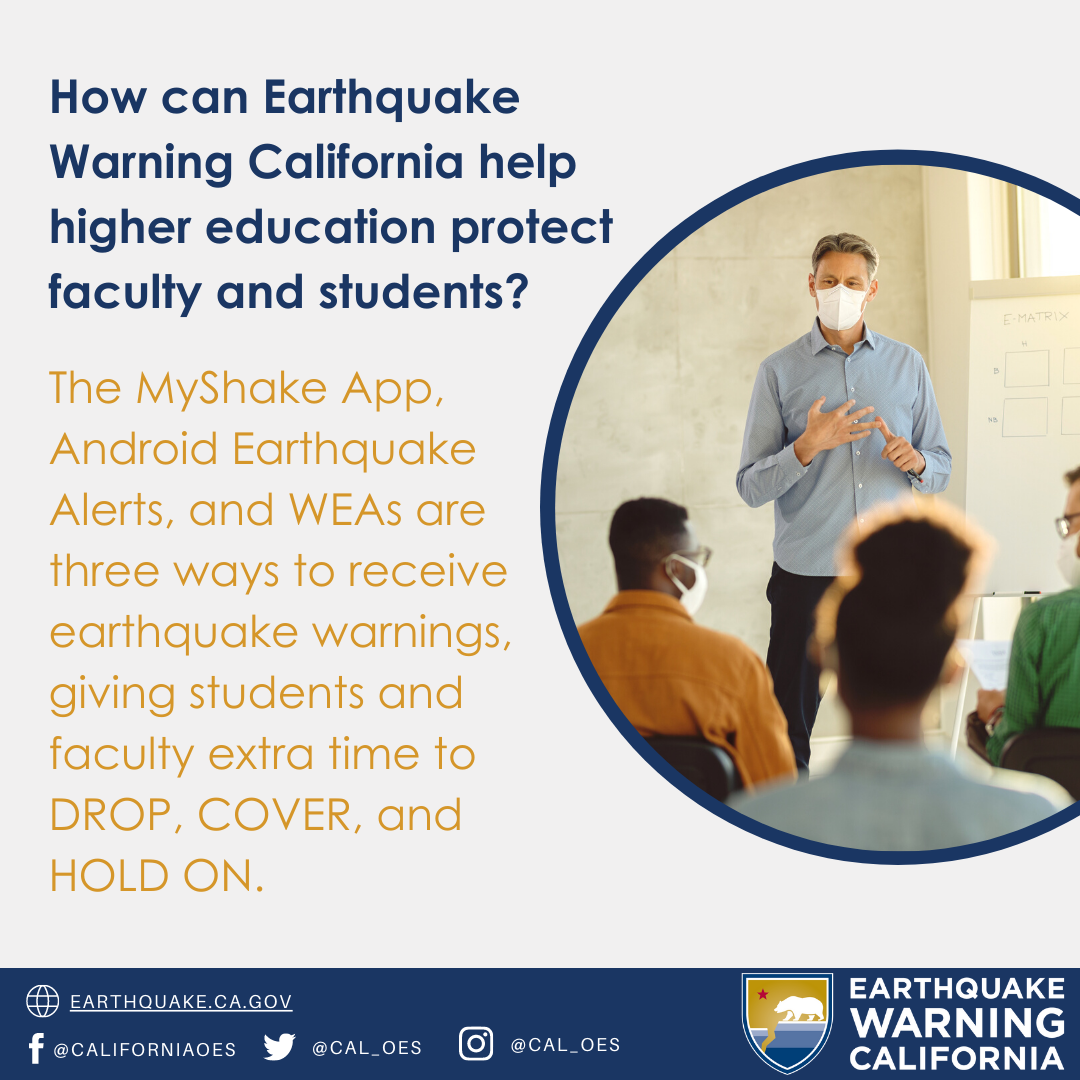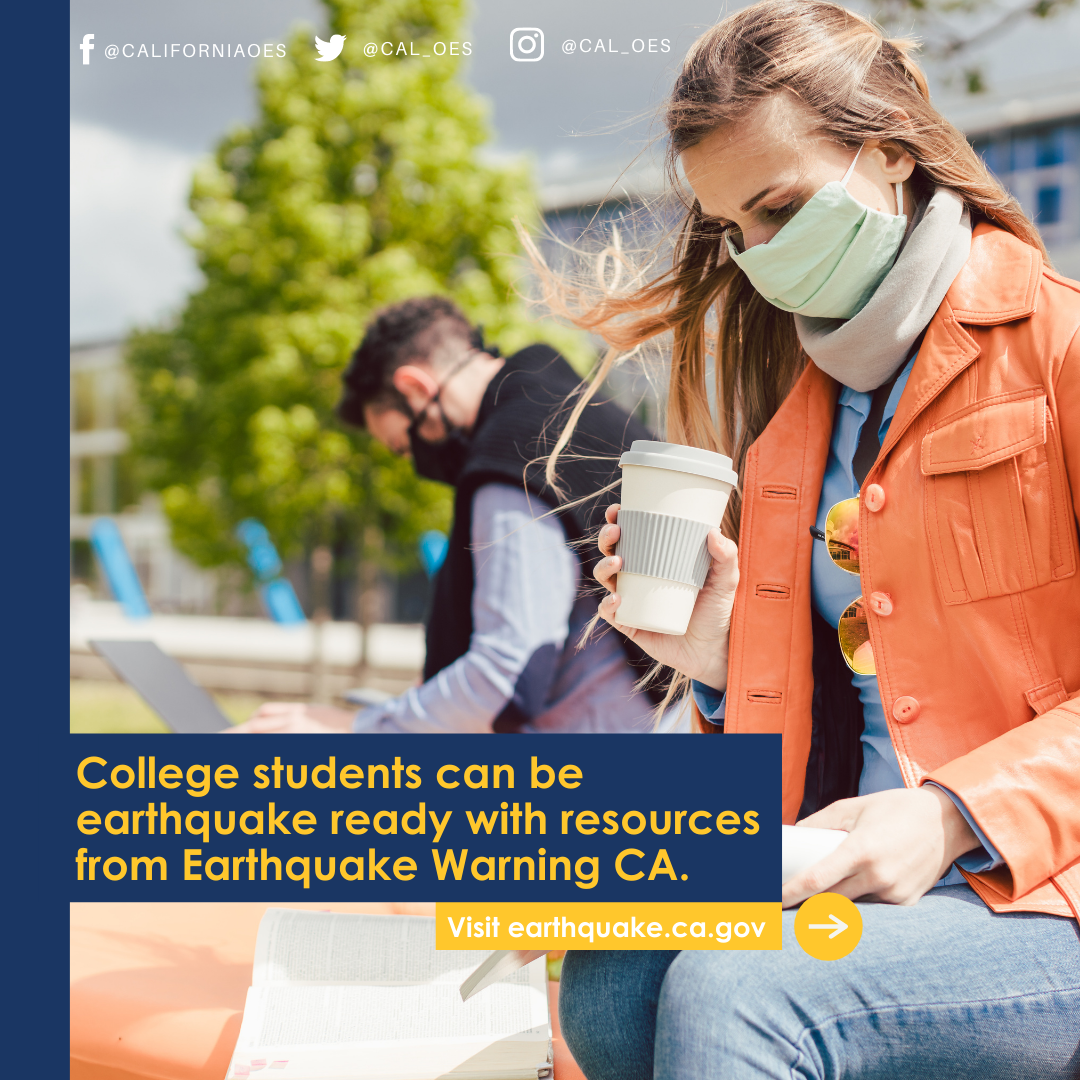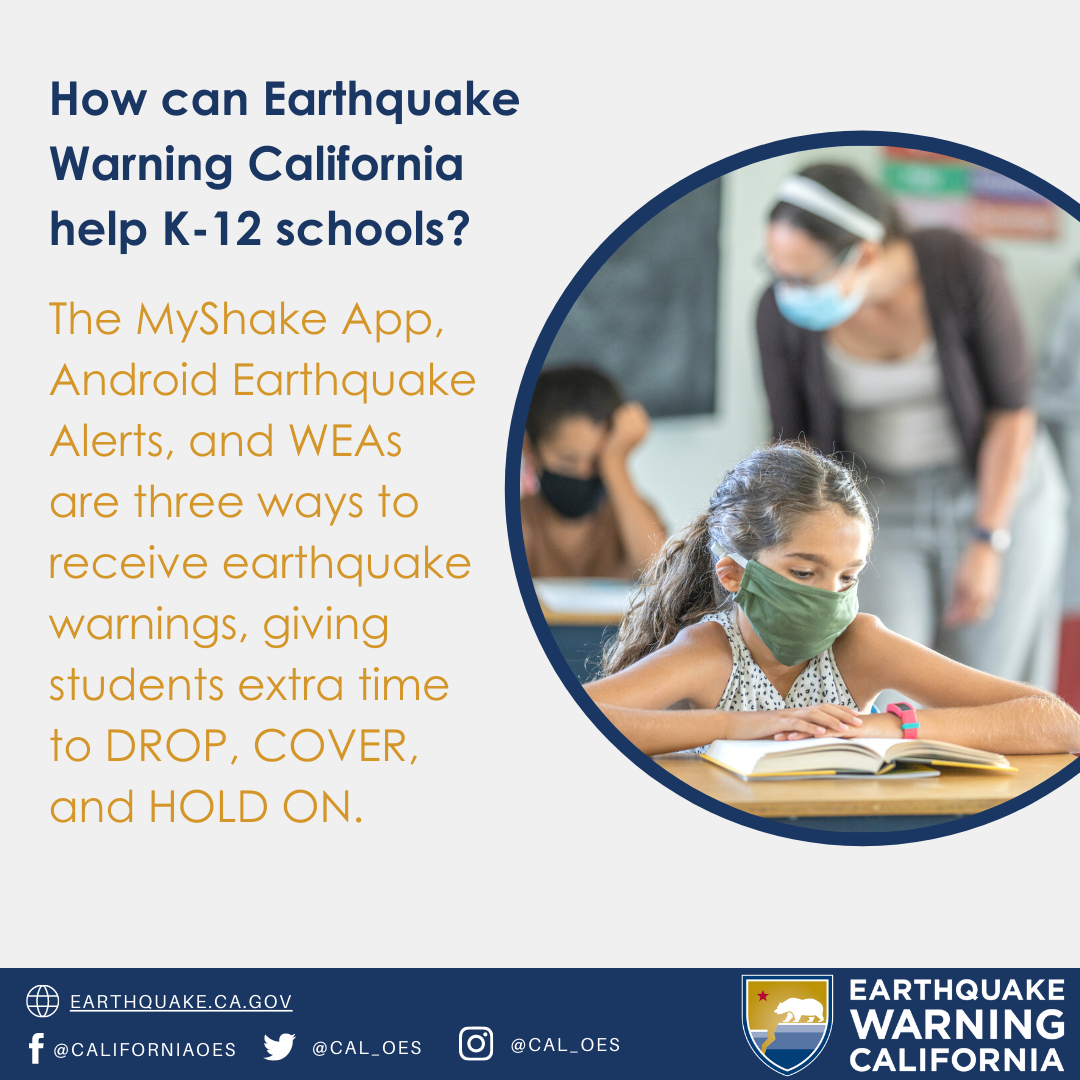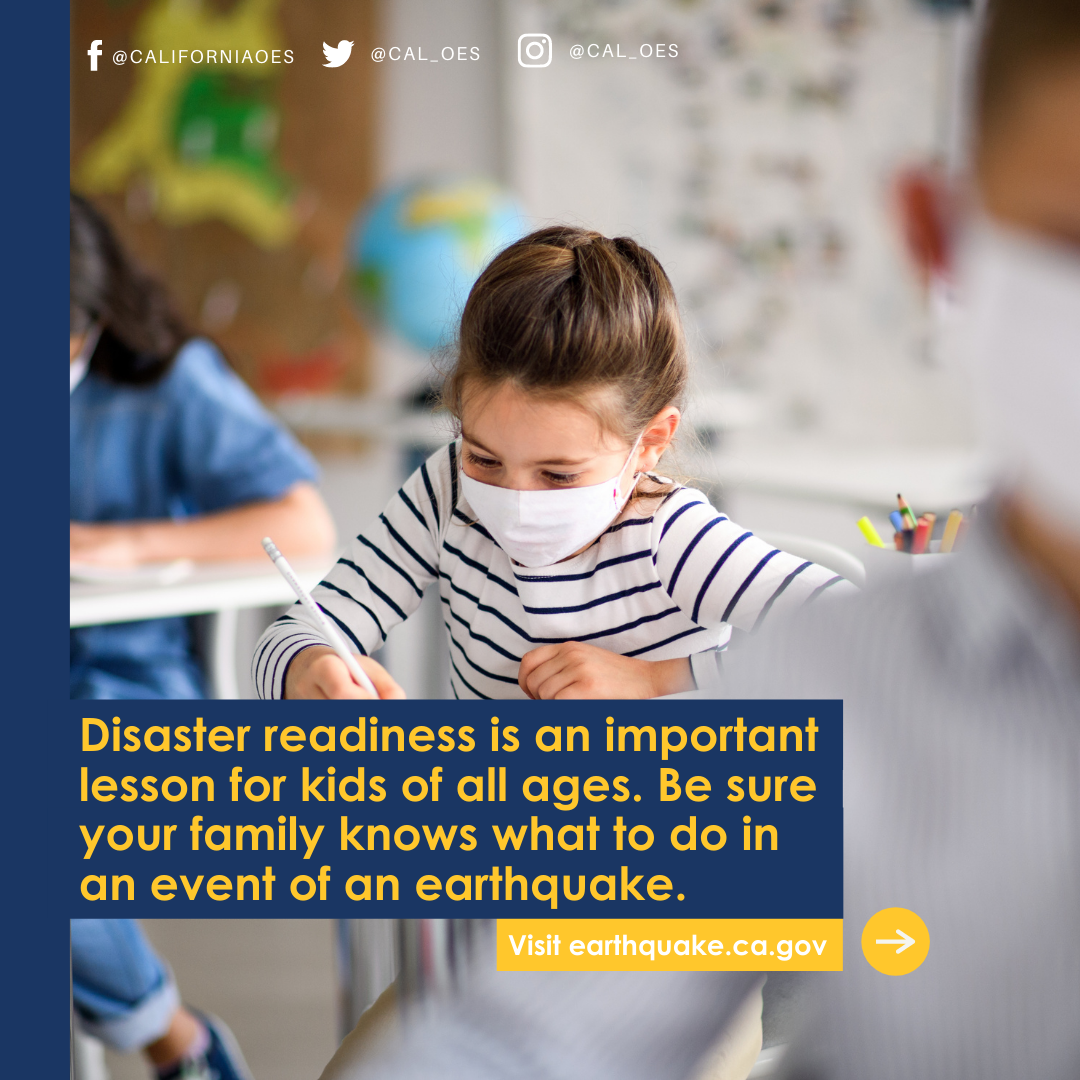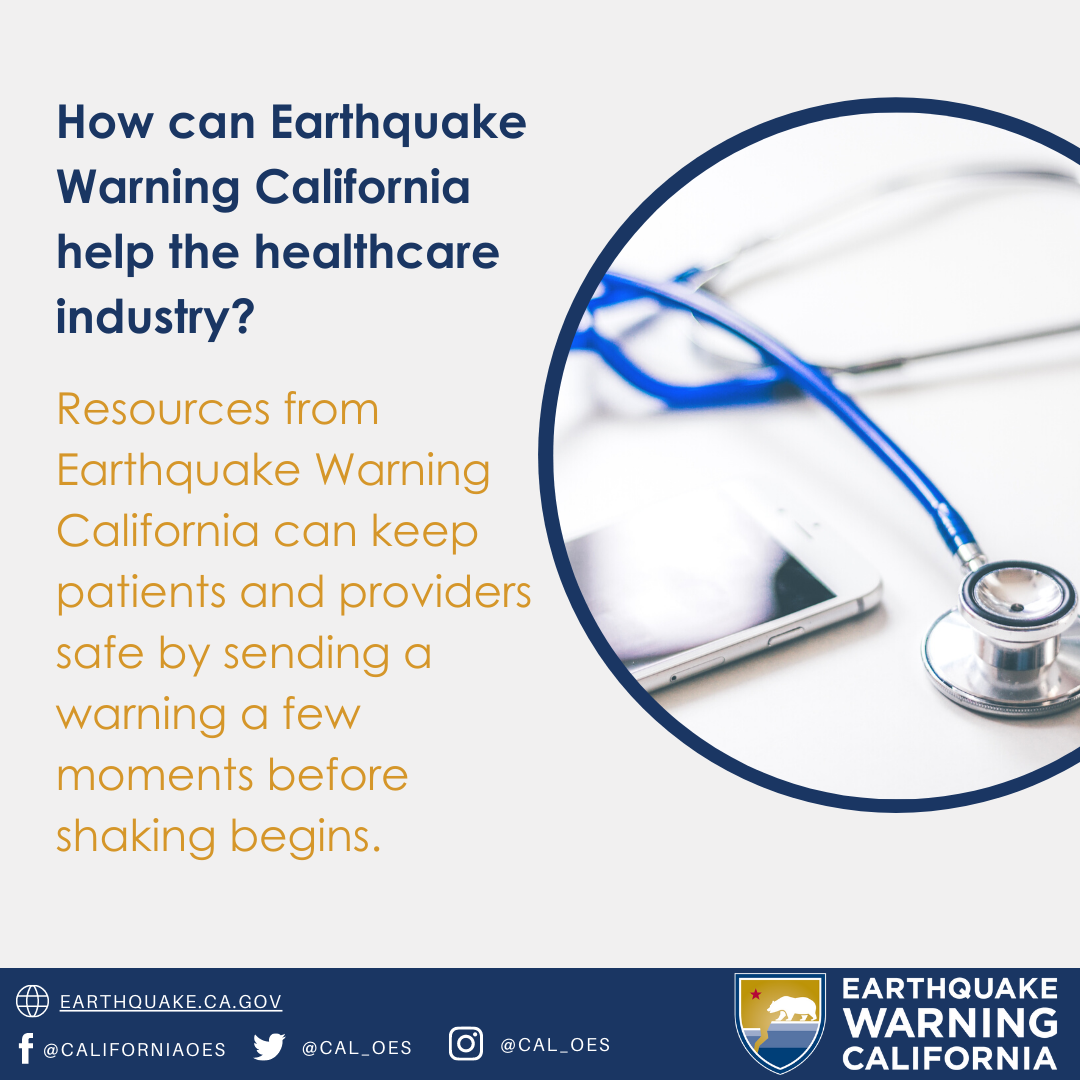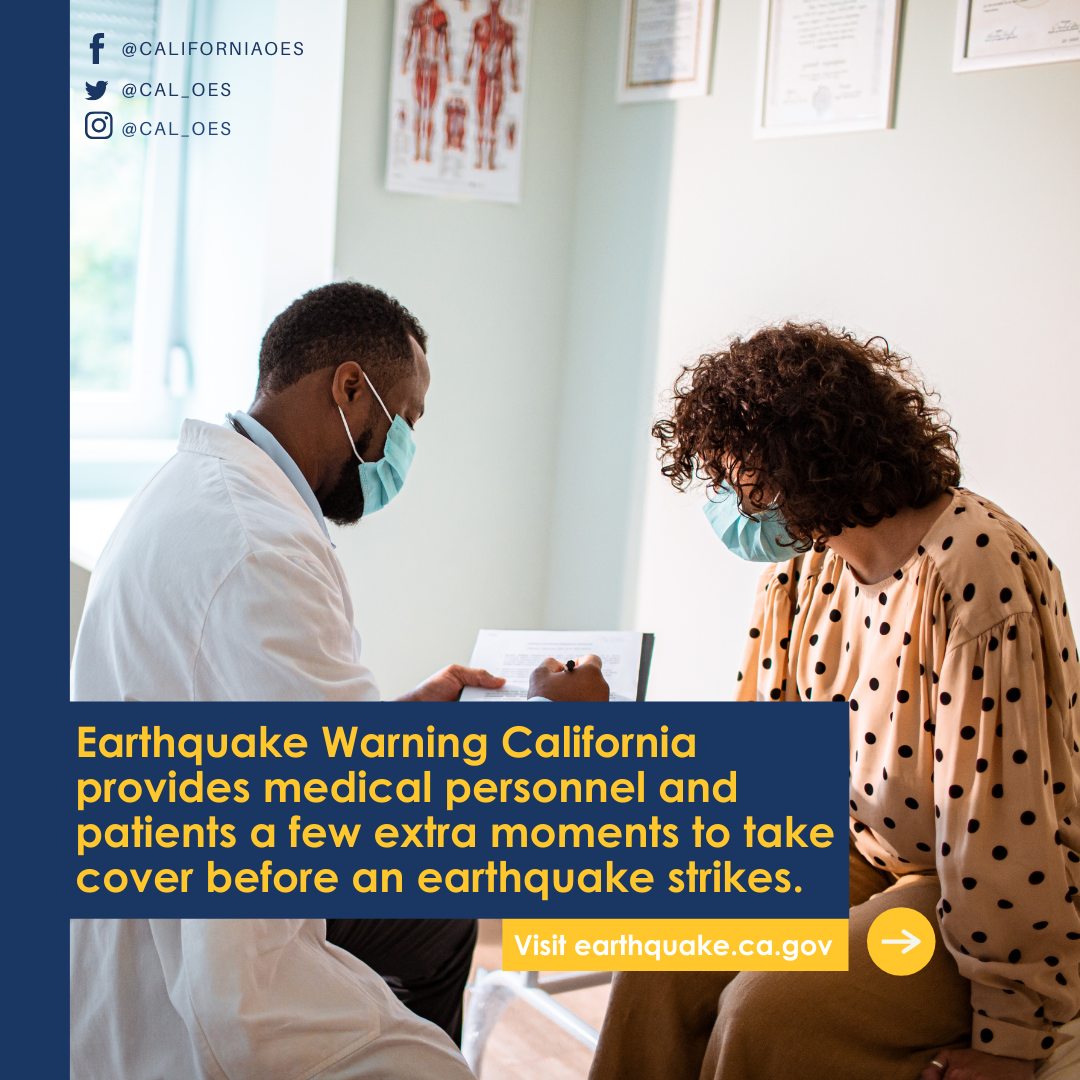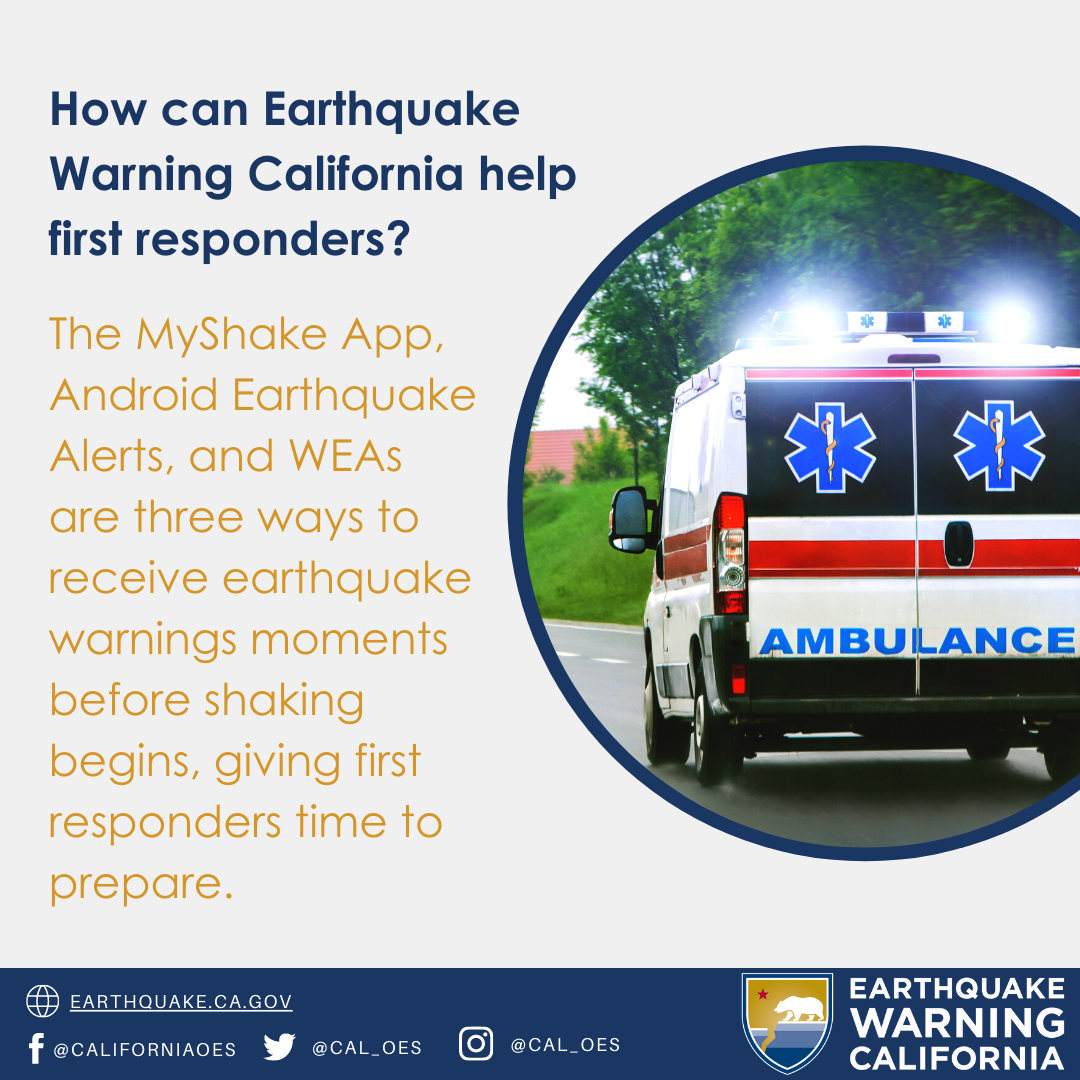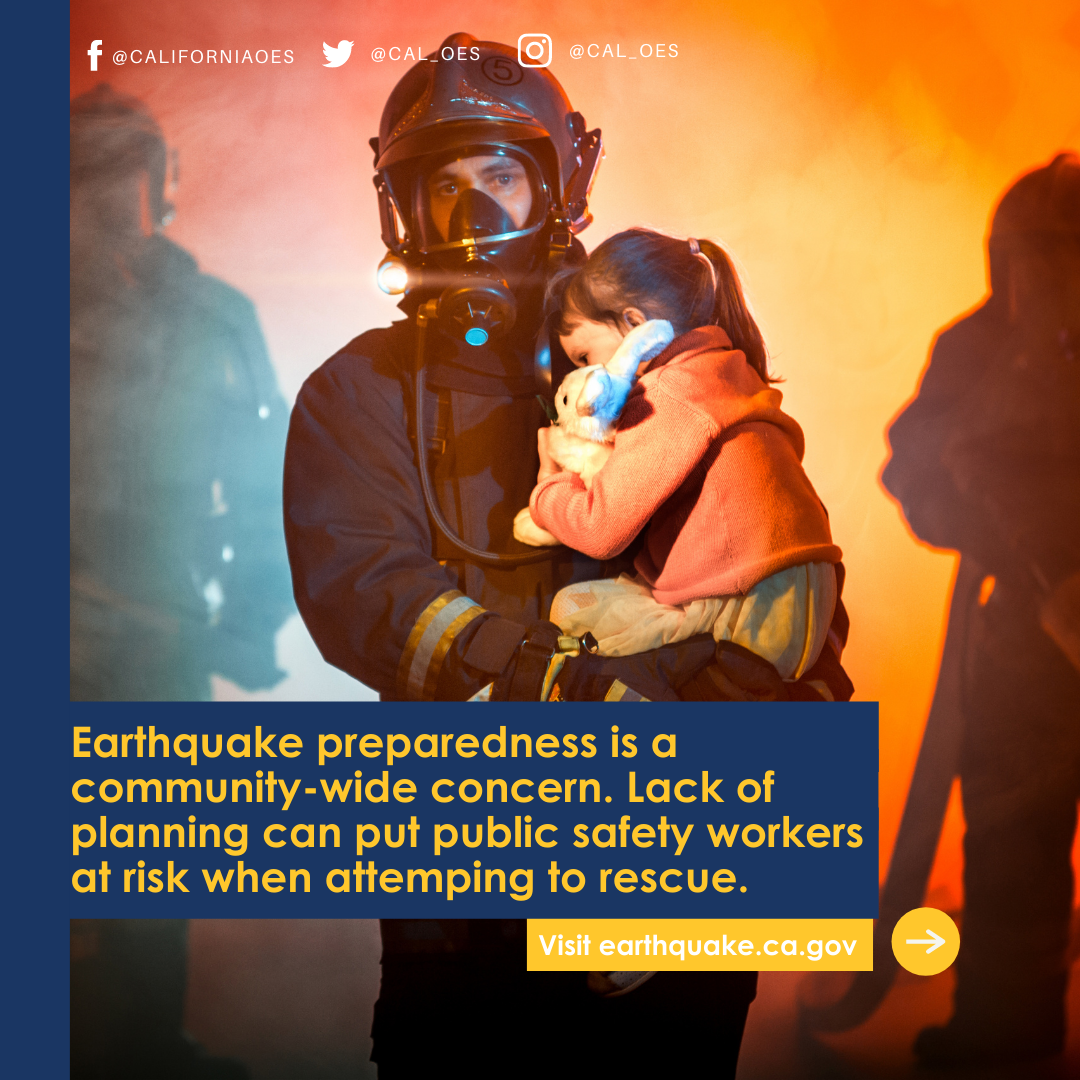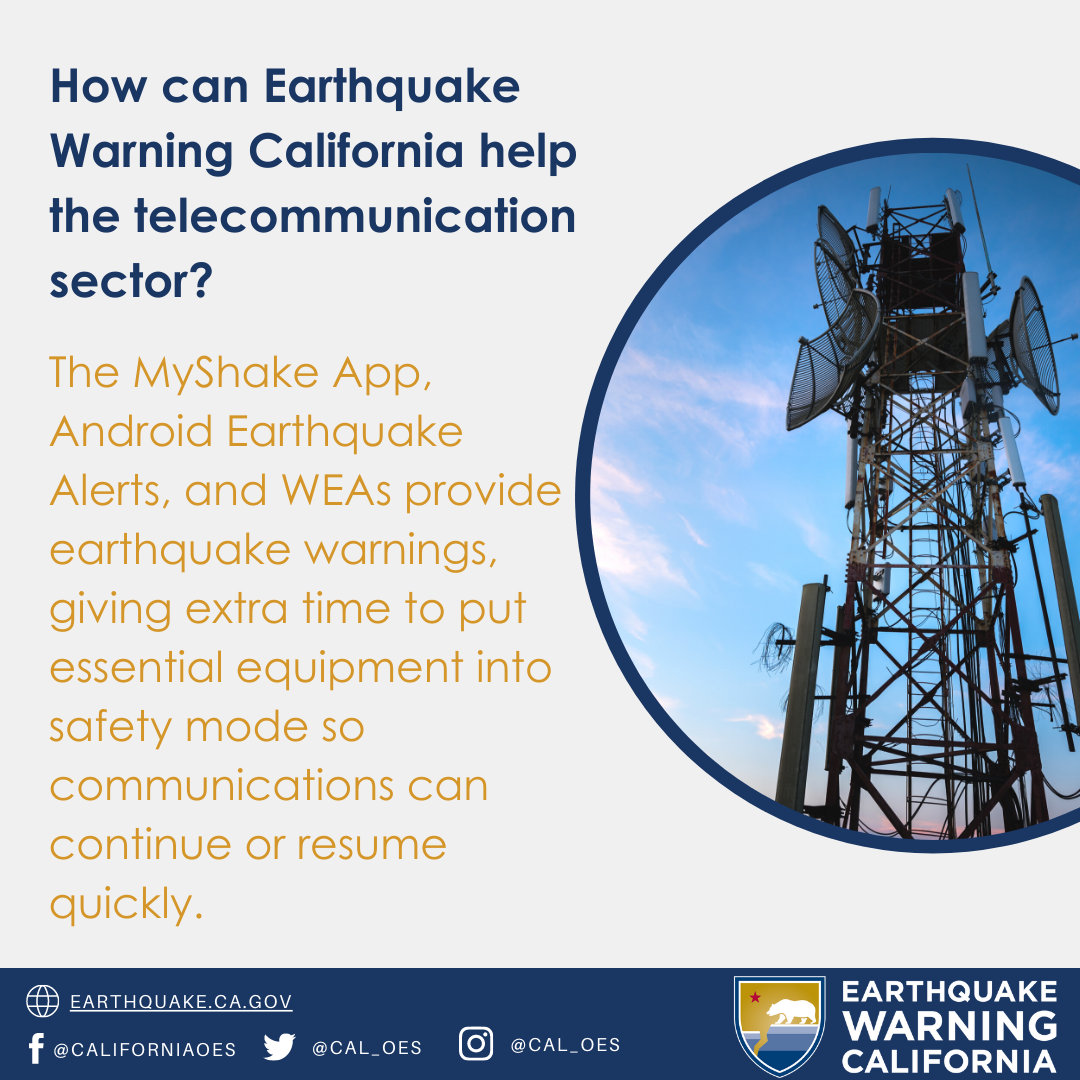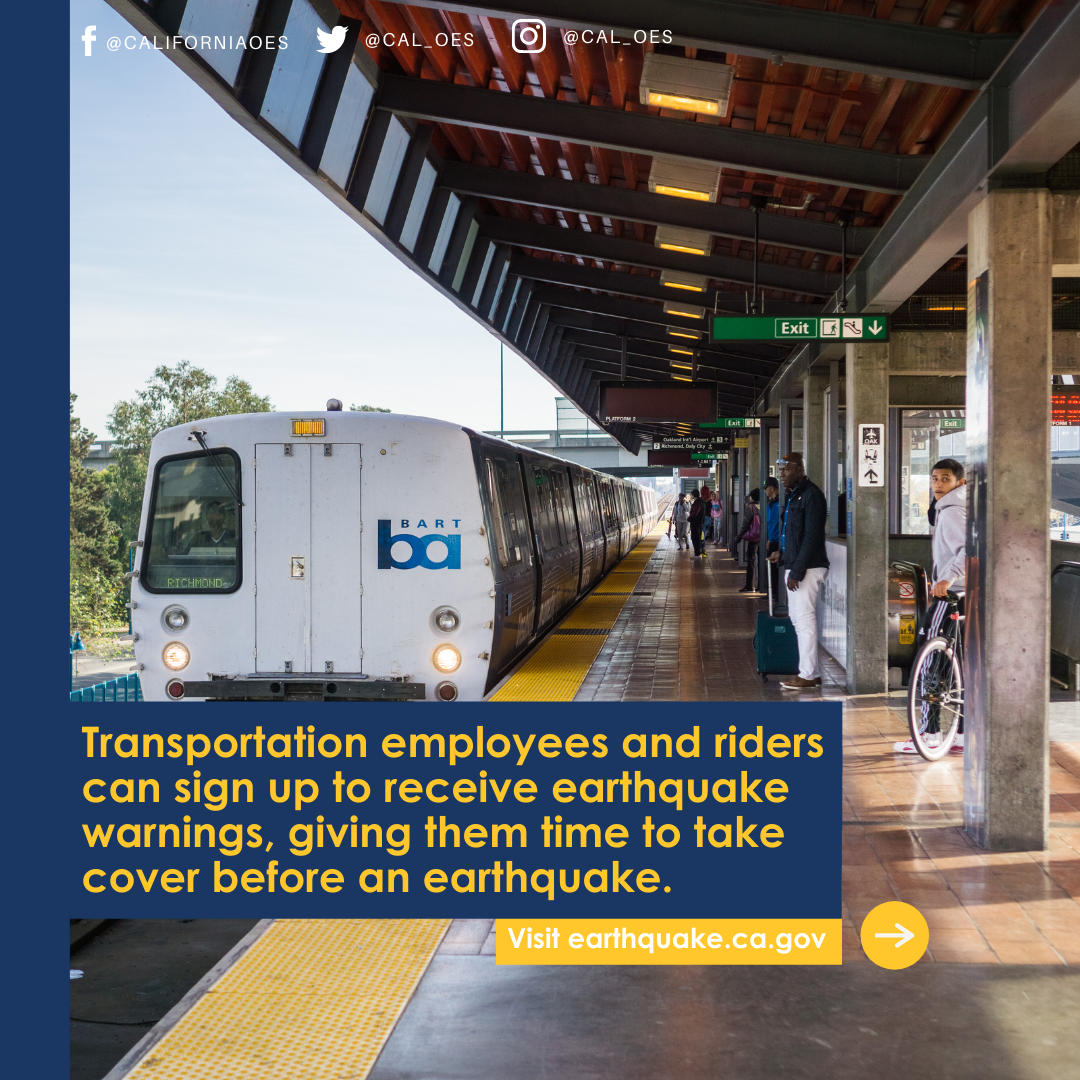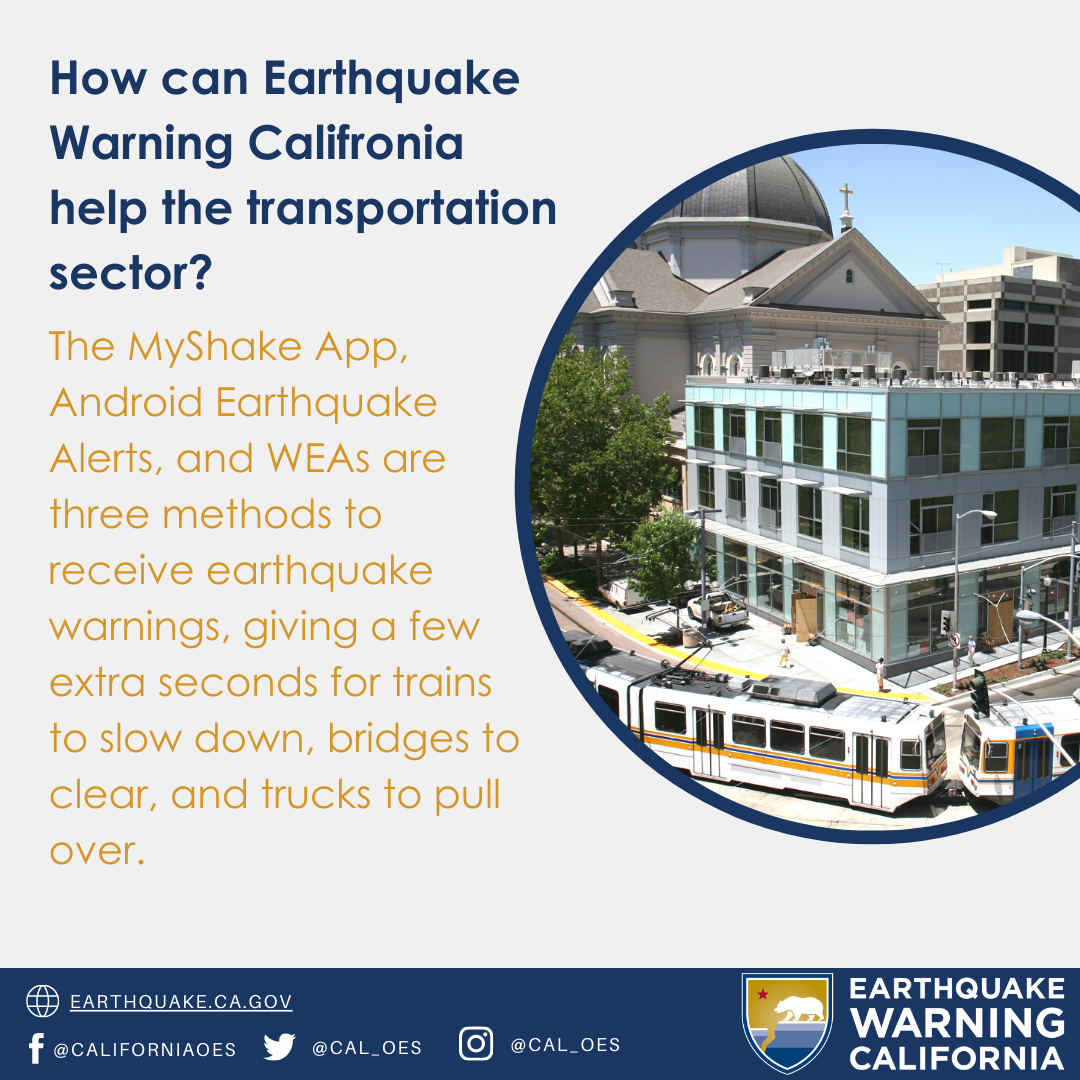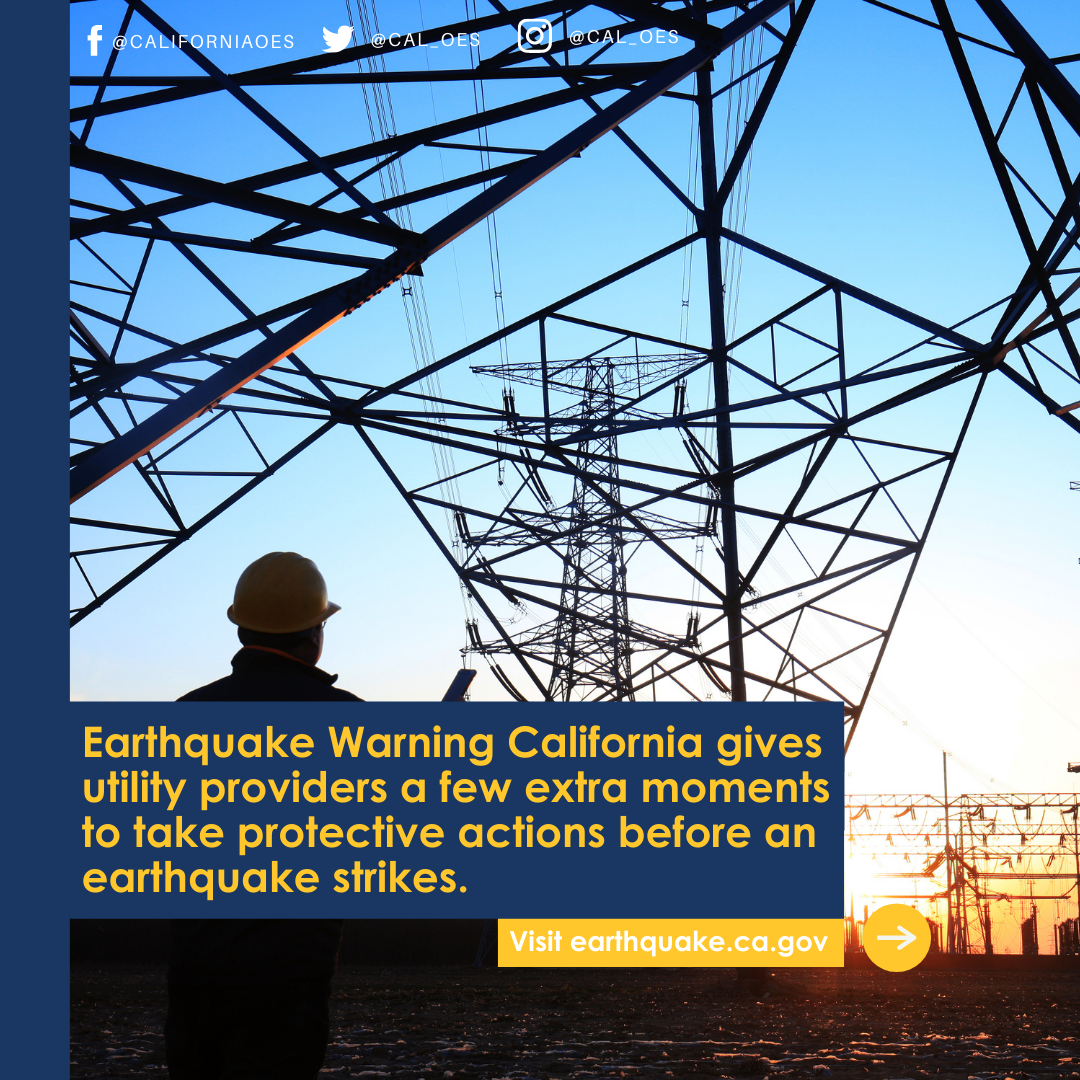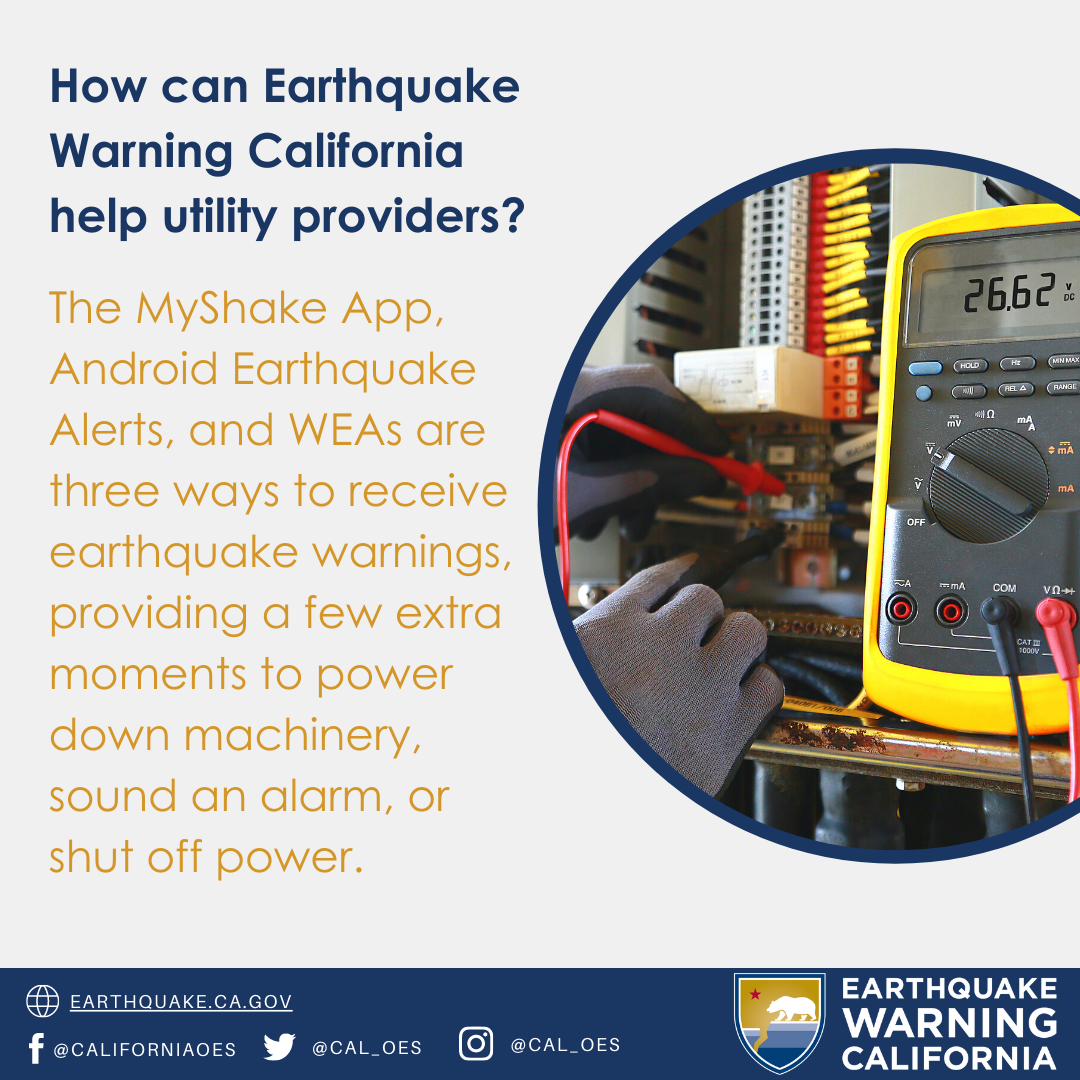 Resources in Additional Languages
Additional Education Resources
Below are links to partners and entities that provide valuable information, education, and resources for earthquake and other disaster preparedness.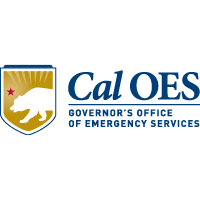 The California Governor's Office of Emergency Services, Earthquake, Tsunami and Volcano Program is continuously researching, learning, and developing new ways to improve the safety of California's residents and visitors before disaster strikes. Through planning and improving building codes, transportation, communications, and education, our staff works with our partners to prepare the people of California to decrease the loss of life, protect the environment, and property. If you live in an area that can be impacted by an earthquake, preparation is vital, as these events can strike suddenly, at any time, and anywhere. Visit My Hazards to see if you live or work in an area prone to earthquakes.
The ShakeAlert description should be: The U.S. Geological Survey (USGS) along with a coalition of State and university partners are now implementing the multistate (California, Oregon and Washington) ShakeAlert Earthquake Early Warning System for the West Coast of the United States. Resources are available for how to become a technical or educational partner and educational materials as well as additional resources.
.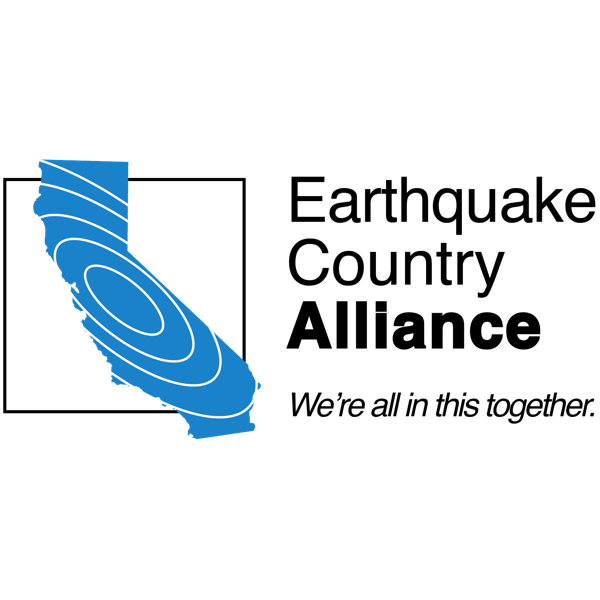 Earthquake Country Alliance (ECA) is a public-private-grassroots partnership of people, organizations, and regional alliances that work together to improve earthquake and tsunami preparedness, mitigation and resiliency. ECA develops resources and organizes activities to help everyone who lives, works, or travels in earthquake country be prepared to survive and recover quickly.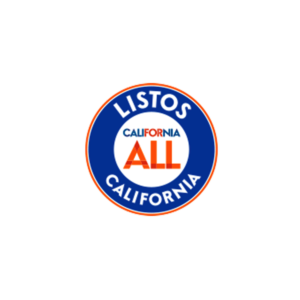 Listos California Emergency Preparedness Campaign is an effort based on an investment of public funds by Governor Gavin Newsom and state lawmakers, to ready our most vulnerable populations for disasters like wildfires, earthquakes and floods, and now public health emergencies like the COVID-19 pandemic, before disasters strike. The campaign – which is led by co-chairs Karen Baker and Justin Knighten – is anchored at the Governor's Office of Emergency Services (Cal OES).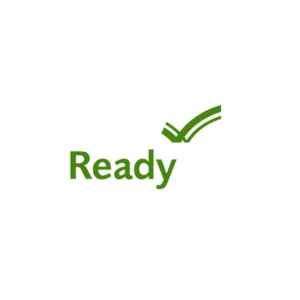 Launched in February 2003, Ready is a National public service campaign designed to educate and empower the American people to prepare for, respond to and mitigate emergencies, including natural and man-made disasters.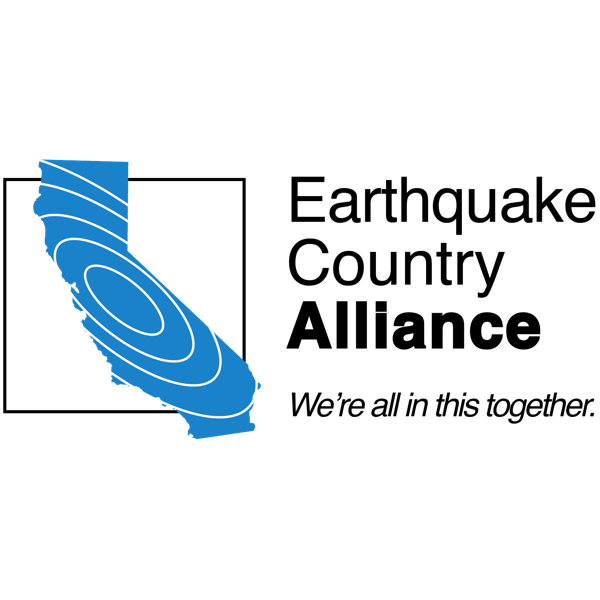 Earthquake Country Alliance (ECA) es una asociación de base pública, privada de personas, organizaciones y alianzas regionales que trabajan juntas para mejorar la preparación, mitigación y resiliencia ante terremotos y tsunamis. ECA proporciona información y recursos para ayudar a todos los que viven, trabajan o viajan en países propensos a terremotos a prepararse para sobrevivir y recuperarse rápidamente, siguiendo Los siete pasos para la seguridad contra terremotos.
The Great ShakeOut Drill and International ShakeOut Day is always the third Thursday of October (this year: October 15). While COVID-19 has brought many uncertainties and challenges, one thing's for sure: ShakeOut is still happening this year! As always, you can hold your #ShakeOut drill when and where you want. You can choose another date or several dates, and include people in multiple locations (home, work, or school), perhaps through video conferencing. Register your participation at www.ShakeOut.org, where you can also find many other helpful resources.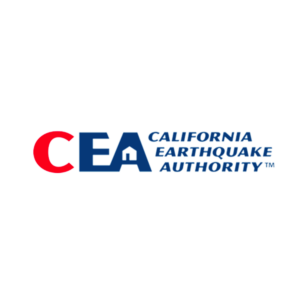 In 1996, the California Legislature created the California Earthquake Authority (CEA)—a not-for-profit, publicly managed, privately funded entity. Residential property insurers could offer their own earthquake insurance or become a CEA participating insurance company. CEA provides two-thirds of the residential earthquake insurance policies sold in California. By selling our policies exclusively through these participating insurance companies, CEA has become one of the largest providers of residential earthquake insurance in the world.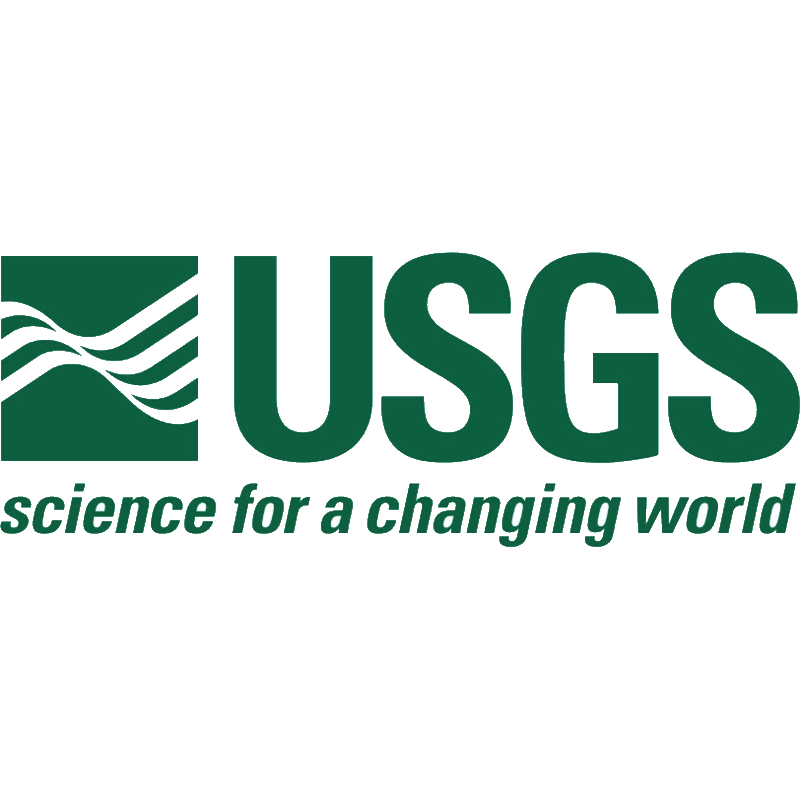 Recent earthquakes from the USGS Earthquake Hazards Program, which is part of the National Earthquake Hazards Reduction Program (NEHRP), established by Congress in 1977, and the USGS Advanced National Seismic System (ANSS) was established by Congress as a NEHRP facility. The USGS and its partners monitor and report earthquakes, assess earthquake impacts and hazards, and perform research into the causes and effects of earthquakes.